The Cincinnati Zoo announced its sloth was pregnant on the day of Oliver's visitation. He slept with a sloth plush until the day passed.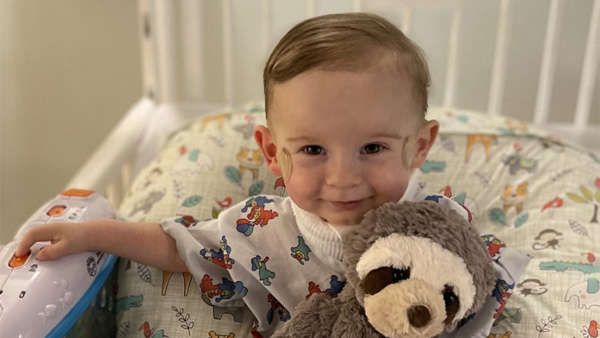 Oliver Nicholson with his sloth. Photo provided.
(Dearborn County, Ind.) – Oliver Nicholson was 16 months old when he passed away.
He was born October 11, 2019, alongside his twin Atticus.
But for Oliver, he was born with one hand, three total fingers, pig bronchus, right aortic arch heart, one kidney, narrow airways, and the inability to swallow.
The medical term used is VACTERL, which effects one in 10,000 to 40,000 newborns at random. It isn't genetic and has no known cause.
Oliver had surgery to connect his esophagus to his stomach on January 11 of this year. Six weeks later, he passed away due to a very rare complication associated with the surgery.
His mother, Alyssa, tells Eagle Country 99.3 that Oliver received a sloth plush when he went in for that surgery, and slept with the sloth until they day he passed in February.
The night of Oliver's visitation, the Nicholson's learned that the sloth at Cincinnati Zoo was pregnant. The family later learned that Lightning was a two-toes sloth, which sort of resembled Oliver's one hand with only two fingers - which got the family thinking.
Now, a petition to name the baby sloth after Oliver is nearly at it's goal of 35,000 signatures.
The Nicholson's goal is to honor Oliver's memory while raising awareness of VACTERL.
"Oliver effected and reached so many people in his short life. He went through many surgeries with a smile time and time again. He would greet his surgeons with smiles and wave at them. He overcame all things thrown in his way and never knew for a second that he was different. So for me, getting my petition notice is more than having my beautiful boy live on but also spreads this condition to as many people as I can. I do this just as much for Oliver as I do for all of those who suffer from this condition," said Alyssa.
For more information about Oliver's story, VACTERL, and to sign the petition, visit https://www.change.org/Fightlikeoli.