The nomination from her congressman makes Hannah Miller eligible for consideration to attend the academy next year.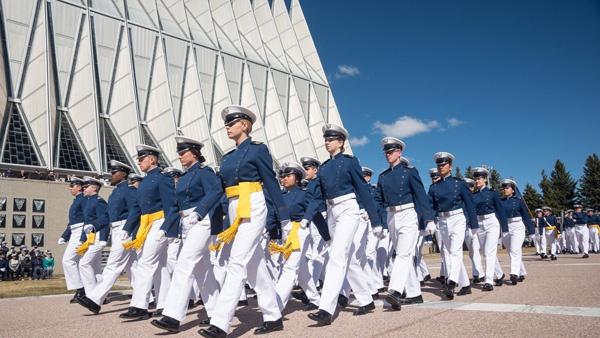 Cadets at the U.S. Air Force Academy march in formation past the Cadet Chapel during the Founder's Day Parade April 2, 2016. U.S. Air Force photo/Liz Copan.
(Lawrenceburg, Ind.) – A Lawrenceburg High School student has received a nomination to attend one of the prestigious U.S. military service academies.
Hanna Miller received a nomination to the U.S. Air Force Academy in Colorado Springs, Colorado from Indiana 6th District Congressman Luke Messer.
With the nomination, Miller is eligible to compete for an appointment to the Air Force Academy.
Hanna is the daughter of Terry and Hiroko Miller of Lawrenceburg.
According to her father, Hanna is expected to graduate with honors from Lawrenceburg High School in the spring with an associate's degree from the Vincennes University early college program at LHS.
If she is admitted to the U.S. Air Force Academy, Miller plans to study aerospace engineering.