House Enrolled Act 1284 was inspired by the story of an Ohio County woman.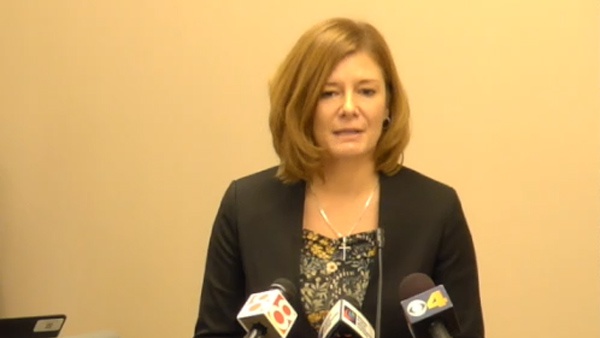 Kystie Phillips testified to an Indiana House of Representatives committee about the importance of House Bill 1284 in January. File photo.
(Indianapolis, Ind.) - Indiana's newest gun law was inspired by a local woman who used deadly force to stop a drugged-up man's attack on an conservation office.
House Enrolled Act 1284 is also referred to "Kystie's Law" in a nod to Ohio County resident Kystie Phillips. The bill was authored by State Representative Jim Lucas (R-Seymour).
Phillips fatally shot a man who was attacking an Indiana Conservation Officer in front of her home in 2017. Despite being cleared of criminal wrongdoing by prosecutors, she then faced a wrongful death lawsuit from the attacker's family. The family suing Phillips dropped the lawsuit this past January.
Phillips testified to House and Senate committees about her experience and in favor of the legislation during the recently completed legislative session. HEA 1284 passed the House on a 64-17 vote and later the Senate on a 37-7 vote.
Governor Eric Holcomb signed the bill into law Friday at the NRA Convention held in Indianapolis.
"If you'll permit me to brag a little bit about our state, I'll tell you that there's simply no place more friendly and more supportive of the Second Amendment than right here on Hoosier soil," Holcomb said.
The law requires a judge to award attorney's fees to a defendant if it determines a suit was brought unjustly, helping to prevent financial ruin for individuals who use a firearm in stopping protecting themselves or others. It goes into effect July 1, 2019.
HEA 1284 also allows parishioners to carry a pistol to churches which share property with a school. However, the church or property owner must give permission for a person to carry on their property.
The NRA Institute for Legislative Action says the new law improves the ability of law-abiding citizens to defend themselves and their families.
The bill was also supported by the Laughery Valley Fraternal Order of Police Lodge 146. The organization successfully raised thousands of dollars for Phillips' civil lawsuit defense.
However, groups including Moms Demand Action for Gun Sense in America say the law shields people from accountability, undermines the civil justice system, and encourages armed vigilantism.
RELATED STORIES:
Plaintiffs Drop Lawsuit Against Woman Who Shot Man Attacking Conservation Officer
Woman Who Saved Officer's Life Makes Tearful Plea For Immunity Legislation
Attacker's Family Files Wrongful Death Lawsuit Against Woman Who Saved Conservation Officer