The 2018 NHRA Mello Yello Funny Car World Champion was back in his hometown of Lawrenceburg for the Thanksgiving weekend.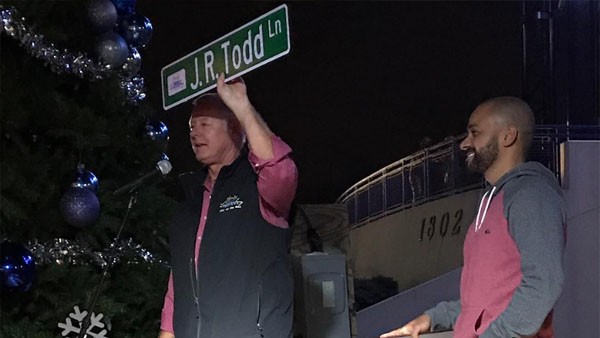 Lawrenceburg Mayor Kelly Mollaun shows off a new street sign honoring NHRA Funny Car champion J.R. Todd. Photo via jrtodd373, Twitter.
(Lawrenceburg, Ind.) - A street in Lawrenceburg will be renamed for a hometown world champion.
J.R. Todd won the NHRA Mello Yello Funny Car World Championship earlier this month, becoming the first African-American to claim the title in one of drag racing's most prestigious circuits.
Todd was in town last night for the City of Lawrenceburg Christmas tree lighting. Mayor Kelly Mollaun revealed that a street will be renamed J.R. Todd Lane. The mayor presented a street sing to the race car driver.
J.R. seemed excited about driving on a street bearing his name, and took to Instagram on Sunday to joke about it:
In claiming the 2018 NHRA Funny Car championship, Todd won six events – three of them in the Countdown to the Championship.
RELATED STORIES:
AUDIO: Lawrenceburg Mayor Says Recognition Coming For J.R. Todd
From Humble Beginnings, J.R. Todd Becomes 2018 NHRA Funny Car Champion