Mayor Kelly Mollaun says NHRA Funny Car Champion J.R. Todd will be honored in his hometown this weekend.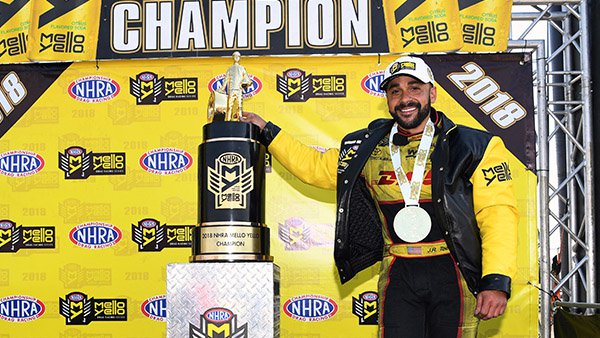 J.R. Todd became the NHRA Mello Yellow Funny Car World Champion on Sunday, November 11. Photo courtesy Kalitta Motorsports.
(Lawrenceburg, Ind.) - Lawrenceburg, Indiana can now brag that it is the hometown of NHRA Funny Car World Champion J.R. Todd.
Todd, 36, won the title earlier this month at the NHRA Finals at Auto Club Raceway in Pomona, California. He is the first Aftrican-American ever to claim the crown.
Lawrenceburg Mayor Kelly Mollaun says Todd is expected to be in town this weekend. The city is planning to honor the championship driver during the mayor's reception and Christmas tree lighting at the levee clock tower on Sunday evening, November 25.
"This young man is not only good at his craft, but he's a great ambassador for Lawrenceburg. He mentions us all the time. He's just a very humble young man," says the mayor.
Mollaun, who calls Todd a hometown hero, isn't revealing specifics on the thank you. You'll just have to come down and see for yourself.
Hear our full interview with Lawrenceburg Mayor Kelly Mollaun about Christmas kick-off festivities in Lawrenceburg in the audio player below.
RELATED STORIES:
From Humble Beginnings, J.R. Todd Becomes 2018 NHRA Funny Car Champion