Lawrenceburg native J.R. Todd captured the NHRA 2018 Mello Yello Funny Car World Championship on Sunday.
(Pomona, Cali.) – Get the road signs along U.S. 50 ready: "Lawrenceburg, Indiana – Home of 2018 NHRA Funny Car World Champion J.R. Todd."
The native son driving for Kalitta Motorsports became the National Hot Rod Association's 2018 Mello Yello Drag Racing Series Funny Car champion on Sunday.
He's come a long way since racing dragsters as a boy at Edgewater Park in Cleves.
"This is what you live your whole life for when you start racing Junior Dragsters at 10 years old. You hope that you can get to this point in your life and your career, but you never really think it is going to happen," Todd said.
The 36-year-old is the first African-American Funny Car champ in NHRA history.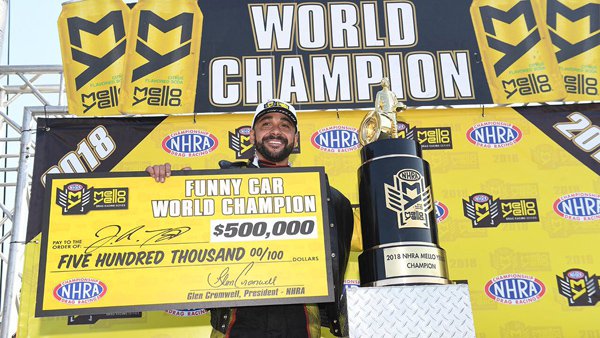 Photo by NHRA.
Todd had a 74-point lead over defending Funny Car champion Robert Hight heading into the final event of the season, the NHRA Finals at Auto Club Raceway in Pomona, California. The championship was clinched when Hight smoked his tires and lost in the opening round.
But Todd decided to take the title in style. He went on to win the NHRA Finals in the Kalitta Motorsports DHL/ WIX Filters Toyota Camry.
In the final heat Sunday, Todd's pass of 3.872 seconds at 329.10 MPH was enough to defeat two-time event champion Tommy Johnson, Jr.'s 3.889 pass. The win is Todd's sixth of his magical 2018 season in Funny Car.
"People kept asking, 'what do you need to do to clinch?'," Todd stated. "I'm like, we need to win the race. We need to not worry about what we need to clinch it. Seeing Robert smoke the tires first round was instant relief. My crew was racing smart and the Yella Fellas do an awesome job preparing the thing today. They stayed focused all day long because there were a lot of distractions around our pit area and they did their job."
Todd still has plenty of family in the Lawrenceburg area, including his father Mario Todd and grandmother Patty Moser.
"I was so excited. I woke up this morning and I thought 'Did that really happen?'" said Moser, who watched the NHRA broadcast on Fox Sports from a restaurant in Rising Sun.
Eagle Country 99.3's Bubba Bo spoke with a proud Grandma Moser on Monday morning. Hear the conversation in the audio player below.
So happy for my friend @JRTodd373 on winning the NHRA Funny Car Championship!

— Kyle Larson (@KyleLarsonRacin) November 11, 2018
Congrats @JRTodd373 on your @NHRA Championship. 👊

— Clint Bowyer (@ClintBowyer) November 11, 2018
Dreams fulfilled! @JRTodd373 wins the 2018 #NHRA Funny Car championship. pic.twitter.com/2dNtokxaSX

— Toyota Racing (@ToyotaRacing) November 11, 2018
Small tracks like Lawrenceburg Speedway are where racing families are born. For @JRTodd373, it was where he watched his dad ride motorcycles & dreamed of following in his footsteps. See the full story here: https://t.co/peaX30xPH3

— Toyota Racing (@ToyotaRacing) November 9, 2018
Way to go Lawrenceburg, Indiana's own JR Todd @JRTodd373! YOur 2018 @NHRA Funny Car World Champ! https://t.co/0zErST8twp

— Eagle Country 99.3 (@eagle993) November 12, 2018