Flaherty & Collins construction team will be completing another concrete delivery and installation project.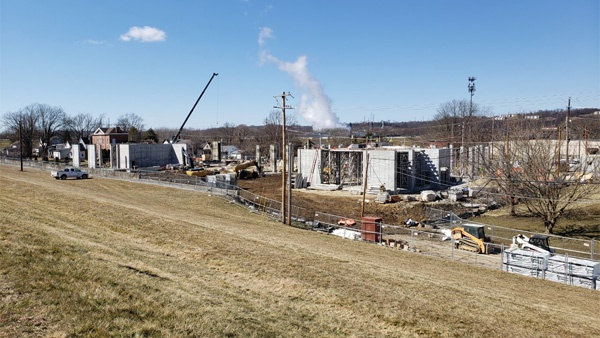 Photo by Travis Thayer, Eagle Country 99.3.
(Lawrenceburg, Ind.) – Continued work on the Whiskey City Apartments will require early morning lane closures in downtown Lawrenceburg.
According to the City of Lawrenceburg, intermittent lane closures will be in place at Front Street and West High Street near the apartment construction site on Friday, April 2 between 3:00 a.m. and dusk.
The Front Street tunnel to West High Street will also be closed to traffic during that time.
The closures are due to concrete delivery and installation work being conducted by the Flaherty & Collins construction team.
Flaggers will be on site to help with safe traffic controls.
The City says there will be some noise impacts associated with the work. Nearby residents can expect the special circumstances to happen about four times, or as needed through construction.
This is the second happening this year.
Whiskey City Apartments are expected to be completed in August 2022.