Military retirement and survivor benefit income are now fully exempt from Indiana's income tax.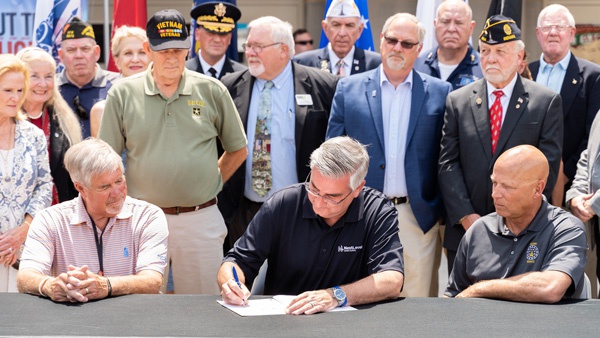 Indiana Governor Eric Holcomb was joined by military veterans as he signed House Enrolled Act 1010 at the Indiana State Fair on Monday, August 5. Public domain photo.
(Indianapolis, Ind.) - Veterans in Indiana don't have to worry about income taxes on their pensions or other military benefits.
Governor Eric Holcomb ceremonially signed a new law Monday at the Indiana State Fair.
It gives former service members a tax break. House Enrolled Act 1010 allows a 100 percent income tax deduction on military retirement or survivor's benefits beginning this year. The exemption also applies to military spouses.
Lawmakers approved the law with the hope that the tax break will keep more veterans in Indiana after they stop working.
The tax exemption will reduce the State of Indiana's income tax revenue by about $15 million per year, according to a fiscal analysis of the law by the non-partisan Legislative Services Agency.
RELATED STORIES: