Mike Witte stood received a standing ovation from 22,000 fans during last night's Reds win.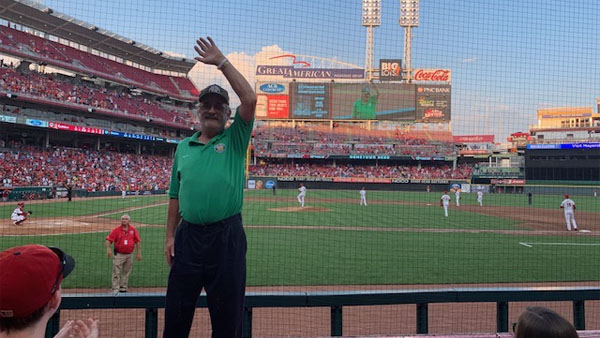 Mike Witte was the Cincinnati Reds' Hometown Hero on Monday night. Photo by P.G. Gentrup.
(Cincinnati, Oh.) – The Cincinnati Reds offense wasn't the only thing worth cheering for on Monday night.
Mike Witte was honored as the Reds' Hometown Hero during last night's game against the Los Angeles Angels.
Witte stood on the home dugout at the end of the second inning to the applause of over 22,000 fans.
A third-generation combat medic, Witte served with Company D, 2nd Battalion, 1st Infantry, 196th Infantry Brigade near Chu Lai, Vietnam from May 1968 to April 1970
During that time, Witte received the Silver Star, our nation's third-highest award for valor, for actions against the Viet Cong on March 20, 1969. He is also a Purple Heart recipient.
Nowadays, Witte serves in the Color Guard helping his fellow Southestern Indiana Vietnam Veterans of American Lary D. Folge Chapter 71 pay a final tribute to our departed veterans.