A mega-deal was announced Friday by the two tri-state headquartered companies.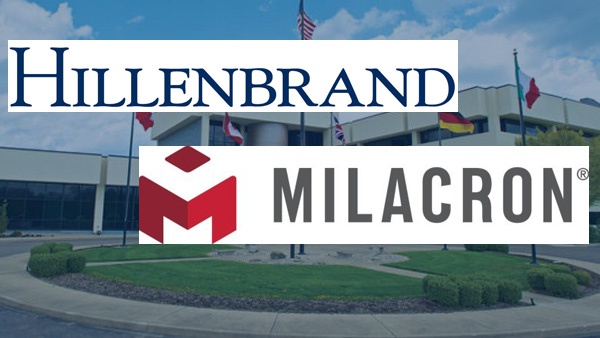 (Batesville, Ind.) - Hillenbrand, Inc. is making a major acquisition of one of the largest companies headquartered in the Cincinnati area.
Batesville-based Hillenbrand announced on Friday, July 12 that it is acquiring Milacron Holdings Corp. in a $2 billion deal. The cash and stock transaction, expected to close in the first calendar quarter of 2020, will be funded through debt financing through J.P. Morgan.
Milacron manufactures, distributes, and services systems in the plastics technology industry. The company is one of the Cincinnati region's largest employers with more than 950 employees locally.
Hillenbrand's announcement says the transaction represents a pivotal step in Hillenbrand's vision to become a world-class global diversified industrial company. Together, the combined company will have increased scale and meaningful product diversification, enhancing its ability to serve customers through complementary technologies across the plastics value chain, including plastic base resins production, compounding, processing both extruded and injection-molded products, and recycling.
CEO Joe Raver explained adding Milacron will drive long-term growth for Hillenbrand.
"Milacron aligns with our profitable growth strategy and acquisition framework and we expect the additional capabilities from its high-performing segments to accelerate free cash flow generation and improve margins across the business. I have great respect for Milacron's talented employees and look forward to welcoming them to Hillenbrand as we embark on this next step in our strategy and create enhanced value for our shareholders, customers, employees, and communities," said Raver.
Milacron CEO Tom Goeke said the company's board members agreed unanimously that a combination with Hillenbrand represents a unique opportunity to provide Milacron stockholders with significant and immediate value and the ability to benefit from the upside potential of the combined company.
"Hillenbrand has a tremendous track record of growing and driving value across its portfolio of highly engineered products. Together, we will continue to provide customers with breakthrough products and customized systems. This combination is a result of the Milacron team's tremendous progress in enhancing our position as a global leader in plastics technology and processing. I am confident we have found a strong partner in Hillenbrand and look forward to a seamless transition," Goeke said.
The combined company is expected to generate up to $3 billion in annual revenue by 2021.
Upon closing, Hillenbrand shareholders will own approximately 84 percent of the combined company, and Milacron stockholders will own approximately 16 percent, according to a news release.
RELATED STORIES:
AUDIO: Indianapolis Symphony Orchestra Will Sync To Fireworks In Batesville
Hillenbrand's New Global Workforce Initiative Will Exchange Students Between Batesville, Germany
How Did This Flu Season Reduce Hillenbrand's 2Q Bottom Line?
RCCF, Hillenbrand Partner For New Scholarships & Leadership Grants