The 80-piece orchestra will perform at the Star-Spangled Symphony & Fireworks Show on Saturday, July 6.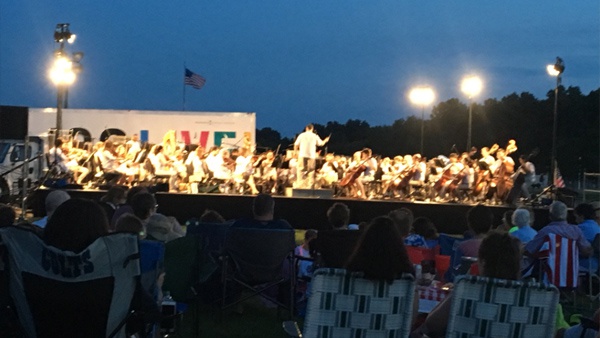 The Indianapolis Symphony Orchestra's 2018 performance in Batesville. File photo.
(Batesville, Ind.) – The Indianapolis Symphony Orchestra's fireworks-backed performance was such a hit last year that it is coming back to Batesville this weekend.
The ISO, Batesville Area Arts Council, and Hillenbrand, Inc. are partnering for the Star-Spangled Symphony & Fireworks Show on Saturday, July 6 at Bill Gillespie Soccer Park, 922 Delaware Road.
"We are very fortunate to have them. It was an incredible show last year," says Tina Longstreth with Batesville Main Street.
Last year's symphony performance brought out 3,000 people.
LISTEN TO EAGLE COUNTRY 99.3'S INTERVIEW WITH BATESVILLE MAIN STREET AND HILLENBRAND, INC.
The event is free for everyone to attend. Gates will open at 5:00 p.m. for a bunch of pre-show entertainment, food, and a kids zone.
"We actually have lots of fun, family competitions and contests going on," says Anna Ibold with Hillenbrand, Inc. "There's food vendors on the spot with and ice cream truck and Kona Ice and some of our local restaurants will be there selling food."
The ISO's live performance will start at 8:00. When nighttime falls, the symphony's finale will be synced to a fireworks show.
"It is all synced to the music. It is really the most memorable fireworks that I have ever been to, I have to say," Longstreth shares.
On-site parking at Bill Gillespie Soccer Park is limited, but free shuttle service will be offered from downtown Batesville. No alcohol will be sold on-site, but you can bring your own cooler of refreshments.
Learn more about the event at https://batesvilleindiana.us/batesvilleiso/.
The Star-Spangled Symphony should return to Batesville next year, too, as the ISO signed a three-year contract. Hillenbrand Inc. was instrumental in landing the symphony as the company seeks to invest in improving quality of life and greater access to arts and culture in southeastern Indiana.
RELATED STORIES:
Indianapolis Symphony Orchestra Makes Return To Batesville In July
Hillenbrand Bringing Indianapolis Symphony Orchestra To Batesville