Veronica Ison helps others overcome their obstacles to get on a path they want to be on.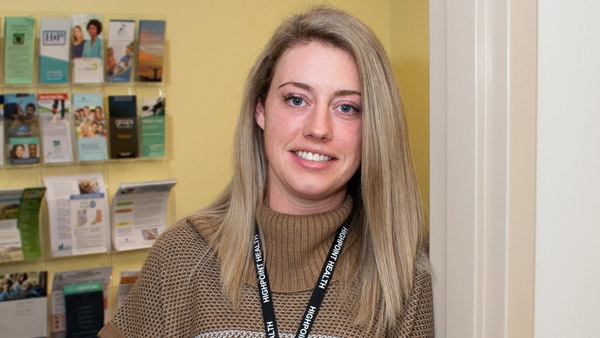 (Lawrenceburg, Ind.) - Veronica Ison knows firsthand how a substance use disorder can destroy a person's life. Ison, who abused several substances – opioids, methamphetamines and marijuana – hit rock bottom when she was arrested and sentenced to jail. "That's when I finally made the decision to turn my life around," said Ison. "I was humiliated. And most of all, I was tired of hurting my family." Today, Ison is seven years clean and a certified peer recovery coach working in Highpoint Health's Emergency Department.
Would you like my help?
According to Ison, her job isn't to tell people what to do. Instead, she meets them where they are in their journey and offers support. "When I first meet a patient, I keep my eyes and ears open, and actively listen," said Ison. "If the patient wants my help, I talk with them to determine their obstacles to substance use recovery."
Ison said there's a lot more to recovery than just getting a person into a treatment program. For example, a person can't focus on recovery if he or she doesn't' have food. Or, a person may be in a dangerous situation and need safe housing. Others may need child care or transportation. And of course, there's the issue of getting people insurance. "I'm a resource broker," said Ison. "I connect patients with the services they need so they can focus on overcoming their addiction."
I know how you feel
Perhaps most important, Ison has walked in her patients' shoes. "I tell patients I was there," said Ison. "If I can do it, so can you. I believe in you." According to Ison, it's this emotional connection that establishes trust. And it must be working. Ison said 75 percent of Emergency Department patients who have received immediate support from her, have engaged in recovery support after discharge.
"I used to be an unproductive member of society," said Ison. "Now I'm a valuable resource. It's a great way to give back to the community."
*Highpoint Health provides a peer recovery coach in its Emergency Department, as well as inpatient units, thanks to funding provided by One Community One Family, through a grant with the Indiana Division of Mental Health and Addiction.