Hamilton County's sales won't be increasing after all, but the county again faces a $28 million 2019 budget deficit.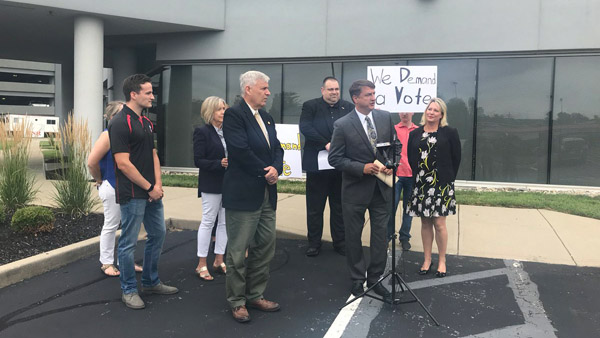 Hamilton County Commissioner Chris Monzel and others against the proposed sales tax increase at a news conference Wednesday, August 1. Commissioners rescinded the tax increase the same day. Photo via Chris Monzel, Twitter.
(Hamilton County, Oh.) - Remember back in June when Hamilton County Commissioners approved a plan to increase the county sales tax?
Yeah, you can forget about that.
The county commissioners voted Wednesday to rescind the 0.2 percent sales tax increase, citing the likelihood of a referendum in November and the threat of a lawsuit.
Last month, Republican County Commissioner Chris Monzel and the Hamilton County Republican Party-backed group called We Demand a Vote submitted a petition with nearly 38,000 signatures in an effort to get the sales tax increase placed on the November ballot. Had at least 23,600 of the signatures been verified, voters would have had the chance to vote down the tax increase.
On Monday, commissioners learned that the tax increase may not hold up under a lawsuit. Attorney Robert Pitcairn of the law firm Katz Teller said the increase should have been passed with a unanimous vote of commissioners because it was passed under an emergency clause. Commissioners Todd Portune and Denise Driehaus were on the majority side of the 2-1 vote in June to approve the tax increase, but Monzel voted against it.
So proud of my fellow Republicans! We killed a tax! Congrats to all who helped.

— Alex Triantafilou (@ChairmanAlex) August 1, 2018
Multiple media reports also stated that Republicans were challenging the tax increase by getting it placed on the November ballot in order to drive up conservative voter turnout in the November election. Such a situation would have benefitted incumbent Ohio First District Congressman Steve Chabot, who is being challenged this fall by Democrat Aftab Pureval.
County officials must now decide how to best fix a $28 million 2019 budget deficit without additional tax revenue. Portune indicated Wednesday that across-the-board cuts of 17 percent for each county department and agency may be necessary.
Previous discussions also hinted at the possibility of closing a floor of the county jail.
Commissioners have ordered the county administrator to begin preparing a budget that takes the multi-million dollar deficit into account.
RELATED STORIES:
Hamilton County GOP Submits Signatures To Halt Sales Tax Hike
Hamilton County Commissioners Approve Sales Tax Increase
Sales Tax Increase Vote Looms For Hamilton County Commissioners