FOLH are still planning with contractors to get a schedule in place.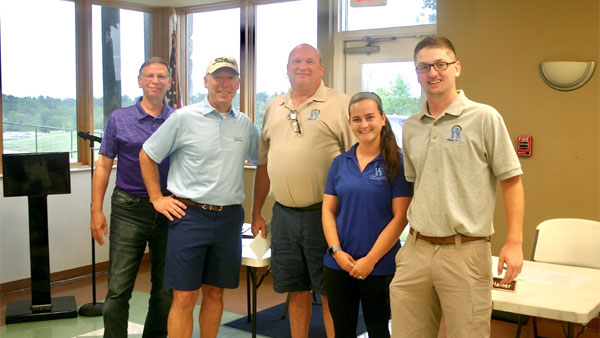 Pictured Left to right, Jeff Fuell (HVL Treasurer) David Hafner (HVL Board Member), Brent Hill (Lauren Hill Memorial Park Board Member), Jessica Fields ( Lauren Hill Memorial Park Board Member) and Adam Duwel (Lauren Hill Memorial Park Board Member). Photo provided by Adam Duwel.
(Greendale, Ind.) - It has been a long time coming but Friends of Lauren Hill (FOLH) Memorial Park will be built.
The organization announced last week that final approvals have been made and permits have been granted to start moving dirt at the park's location at the top of Georgetown Road, just across the 11th fairway at Hidden Valley Golf Club.
The idea for the park started in 2017 by the late Tom Biedenharn and recent Elder High School graduate Adam Duwel. Friends of Lauren Hill hoped to open the park in the spring of 2020, but COVID-19 delayed the process.
A project start date has yet to be set as FOLH are still meeting with contractors to get a schedule in place.
Duwel tells Eagle Country 99.3 he is hoping to have a groundbreaking ceremony before he goes off to college in August. Plans for the FOLH Memorial Park include two-thirds of an acre for small dogs, one and one-third acres for large dogs and a three-mile bike trail. Other recreational areas could be added in the future, such as basketball courts and disc golf.
FOLH will be responsible for maintenance, management, and future development of the park itself based on a 15-year lease agreement with the City of Greendale.
In related news, the Hidden Valley Board Members recently presented a $10,000 check to FOLH. The HVL Board matched donations that were made by the residents of Hidden Valley.
FOLH is also looking for volunteers to assist by working fundraising events. Volunteers will also be needed to plant flowers, weed eat or mow and help clean up once the park is open.
Be sure to follow the Friends of Lauren Hill Memorial Park Facebook page for information on upcoming events, and learn more about how to get involved.
RELATED STORIES
AUDIO: Friends Of Lauren Hill Work To Make Memorial Park A Reality