Dozens of people are working together to ensure everybody has a warm meal this Thanksgiving.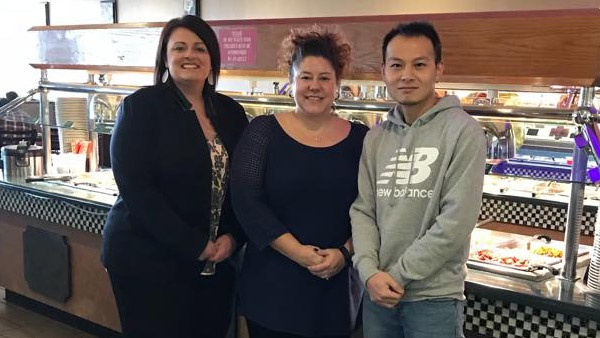 (Left to right) Rachel Reynolds, Andrea Ewan, and Kevin Wang have organized to distribute 945 Thanksgiving meals on Wednesday, November 21. Photo courtesy Grand Buffet.
(Lawrenceburg, Ind.) - Dozens of volunteers will assemble at Grand Buffet restaurant in Lawrenceburg Wednesday to make sure everybody gets a good meal this Thanksgiving.
The third annual Feeding Those In Need event helps put a meal on the tables to those who might otherwise go without.
The program was founded by Grand Buffet owner Kevin Wang. As he said in an acceptance speed of the Laurel Hill Award at the Dearborn County Chamber of Commerce annual dinner earlier this month, he and a friend spent Thanksgivings when they were younger taking the meals they could then afford – peanut butter sandwiches – to the hungry.
The meal drive is being coordinated this year by Rachel Reynolds and Andrea Ewan.
"He went without growing up. When he and his friend got older, they decided to do the peanut butter sandwiches to give back. Now that he's in a position financially to give back more, he just wants to bring the community together and make sure everyone knows they are important and valued," says Reynolds.
Today, they expect to provide nearly 1,000 Thanksgiving meals for local needy families. The individuals and families receiving meals were identified through the Dearborn County Clearinghouse, SIEOC, Community Mental Health Center, YES Home, Safe Passage, The Heart House, and local schools.
The meals will be prepared and boxed by Wang's staff at Grand Buffet, which closes to the public Wednesday just for the occasion.
Reynolds says 42 teams of volunteers will then arrive at the restaurant in the evening to pick up the meals, then fan out across the region to deliver them. She estimates about 150 people in total are involved from start to finish.
If you want to help out at the last minute, desserts can be dropped off at Grand Buffet by 5:30 p.m. Monetary donations to Feeding Those In Need can be made through PayPal by sending a donation to feedingthoseinneeddc@gmail.com.
RELATED STORIES:
Grand Buffet Bringing Thanksgiving Meals To Needy Families Door Step