Citizens without electricity can stay warm at the Aurora Fire Department. Call ahead first.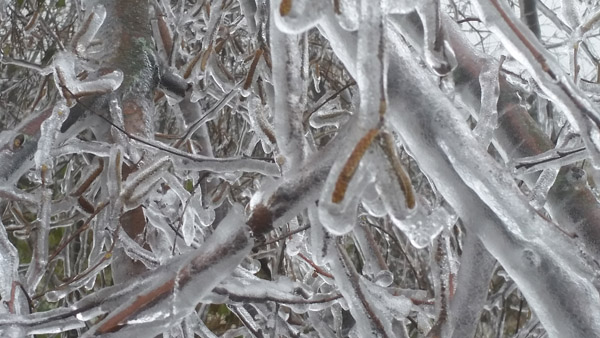 Ice accumulation in Ohio County on Thursday, November 15. Photo by Mike Perleberg, Eagle Country 99.3.
(Aurora, Ind.) - As thousands of southeastern Indiana residents remain without power Thursday evening, a warming shelter will be opened in Aurora.
Aurora Mayor Donnie Hastings, Jr. and the Aurora Fire Department will be offering an emergency shelter for those without power or heat due to the ice storm which coated much of the area early Thursday morning. The shelter is at the fire department located at 5950 Dutch Hollow Road, just off of U.S. 50, in Aurora.
Those planning to utilize the emergency shelter are asked to call ahead to the Aurora Fire Department, (812) 926-1682.
Individual beds and an emergency generator are available at the fire department.
Those who would like to make a food donation for the emergency shelter should also call the fire department.
Switzerland County Emergency Management Agency says residents there can utilize an emergency shelter established at the TEC Center on West Seminary Street in Vevay. It is open to anybody without electricity. Call (812) 427-4475.
Southeastern Indiana REMC line crews have cut in half the number of outages caused by fallen trees and power lines weighed down by ice. The cooperative reported more than 16,000 outages at one point Thursday morning. As of Thursday evening, about 8,000 outages remain throughout SEI REMC's seven-county service area.
Meanwhile, Duke Energy's outages in southeastern Indiana total around 3,700 as of Thursday evening.
Thursday's overnight low is expected to dip into the upper 20s. Much of the remaining ice should melt off Friday when the sun returns and temperatures will reach into the low 40s.