A total of 11 students from the tri-state area were named semifinalists.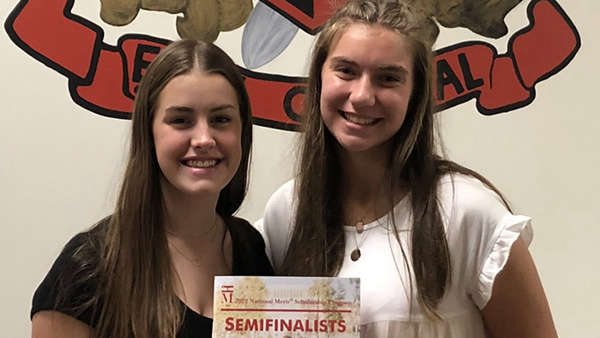 Lillian Crouse and Paige Lyness have been named 2022 National Merit Scholarship semifinalists. Photo via @EastCentralHS.
(Evanston, Ill.) – Eleven high school students from the tri-state area have been named 2022 National Merit Scholarship semifinalists.
The 67th annual National Merit Scholarship Program will award approximately 7,500 National Merit Scholarships worth nearly $30 million next spring.
Nearly 16,000 students nationwide have been selected as semifinalists for the $2,500 scholarships.
High school juniors entered the 2022 National Merit Scholarship Program by taking the 2020 Preliminary SAT/National Merit Scholarship Qualifying Test (PSAT/NMSQT®), which served as an initial screen of program entrants.
The nationwide pool of Semifinalists represents less than one percent of U.S. high school seniors, and includes the highest-scoring entrants in each state.
Area semifinalists include:
Lillian Crouse, Paige Lyness - East Central High School
Zackery Banish – Cooper High School
Maxwell Arsenault, Angelina Harris, Renae Kopser, Jack Tagher -Ryle High School
Peter Constant – St. Henry High School
Lee Garber-Ford, Anthony Martini – Taylor High School
Adam Evanson – Harrison High School
To become a finalist, the semifinalists and a high school official must submit a detailed scholarship application, providing the student's academic record, participation in school and community activities, demonstrated leadership abilities, employment, and honors and awards.
Of the 16,000 semifinalists, about 15,000 are expected to advance to the Finalist level.
Finalists will be named in February with the scholarship recipients being announced in the spring.
Congratulations to our academically talented students Lillian Crouse & Paige Lyness for being named National Merit Semi-Finalists @nationalmerit @eagle993 @S_DCSC #WeAreEC #WatchSunmanDearborn pic.twitter.com/NwLN5y6HXC

— East Central HS (@EastCentralHS) September 15, 2021