Power lines were downed during a Wednesday night storm in the area of Woodlawn Avenue.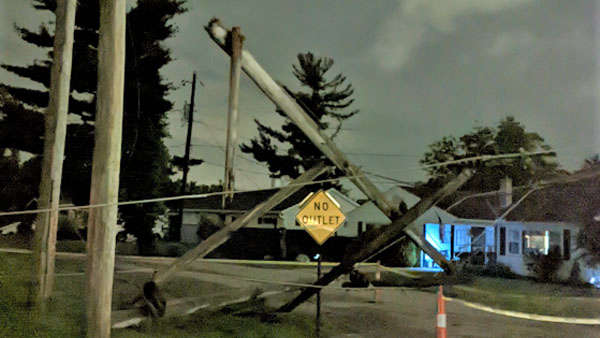 Photo provided by Duke Energy.
UPDATE: Power was restored as of 4:00 a.m.
(Aurora, Ind.) - Duke Energy crews are continuing to work to restore power for some Aurora customers.
An outage occurred Wednesday night when several power lines were downed in the area of Woodlawn Avenue and Deborah Drive.
According to Duke Energy, their transmission and distribution took a direct hit.
Originally, over 90 customers were without power, but as of Thursday morning only 32 households remain without power.
"There is an immense amount of work which needs to be done in order to pick up the rest of these customers," said a Duke Energy spokesperson. "We have both Duke and contractors working side by side to get this work completed."
Duke Energy estimates all power will be restored by 8:00 p.m. Thursday.
The estimated restoration time could change based on today's forecast which is calling for more rain and winds.