Dearborn County Commissioners have tabled an ordinance that seeks to stop out-of-state fly ash from being shipped into the county.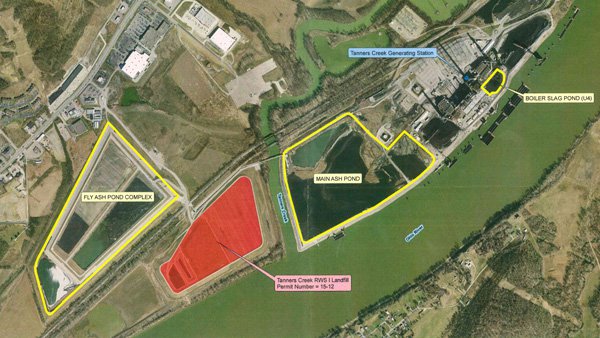 A map outlining the ash ponds at the former Tanners Creek Power Plant property in Lawrenceburg. The ash landfill highlighted in red is the one for which Tanners Creek Development had sought a minor modification to its permit to allow for filling with out-of-state fly ash. Indiana Department of Environmental Management image.
(Dearborn County, Ind.) – Dearborn County Commissioners have tabled an ordinance that seeks to stop out-of-state fly ash from being shipped into the county.
The commissioners were set to vote on the ordinance Tuesday night, but county engineer Todd Listerman told them some fly ash is used by local concrete companies.
County commissioners decided to table a vote on the proposal to exercise due caution with the wording of the ordinance. There could also be changes to allow some exceptions.
"We want to do a little bit more research on it to make sure we aren't causing somebody some problems. There is a different type of concrete that doesn't use it, but I guess it is a lot more expensive. We just don't want to cause an unnecessary consequence to somebody else that is using it the proper way," McHenry told Eagle Country 99.3 Wednesday.
McHenry said the commissioners may vote on the ordinance at their next meeting on April 3.
The county's executive board is hoping to prevent any future fly ash importation by Tanners Creek Development LLC, which is redeveloping the former Tanners Creek Power Plant site in Lawrenceburg to prepare it as a possible new inland port. The company, an affiliate of Commercial Development Corporation, wants to use fly ash produced at two coal-fired plants in Ohio to complete the filling of an ash landfill at the Lawrenceburg site, which is near an underground aquifer from which local utilities pump drinking water.
Last week, the Indiana Department of Environmental Management issued a denial of the "minor modification" to a solid waste land disposal facility permit held by Tanners Creek Development. The modification would have allowed the foreign fly ash to be brought into Lawrenceburg from out-of-state. However, the company may choose to appeal IDEM's decision.
Another local resident addressed commissioners Tuesday with his concerns about the ordinance. Matt Miles submitted a letter in which he wrote there is considerable information on the matter that has not yet been made available to the city and the county. The professional scientist alluded to information he uncovered over several full days of researching.
"The ordinance may not be necessary to achieve the stated goals, and may expose the county to claims of tortious interference, ex post facto denial of due process, or state & federal jurisdictional disputes. Regardless of the validity of such claims, the Commercial Development Corporation's owners enjoy the benefit of discretionary access to an entire bank holding. Their pockets run sufficiently deep to influence key political figures, and drag out litigation indefinitely. This enables them to economically force smaller municipalities into submission by accepting unfavorable settlement terms. Based on their historic litigation practices and total silence to date, it is possible that such claims are already being drafted against the city of Lawrenceburg," Miles' states in his letter.
While the Lawrenceburg ash landfill in question is lined, Miles said the former power plant site predates environmental regulation. He believes there is significant coal combustion residue already hidden in unprotected surface deposits and resting directly within the aquifer. He said current testing does not detect chemicals in the underground water supply "due to weaknesses within the current site monitoring & deficiencies in historic reporting requirements."
Miles also asked commissioners to table the county fly ash ordinance, a step the City of Lawrenceburg already took earlier this month. He has offered to consult the county on the matter.
"My interest is in the greatest benefit for the community. I believe that it is possible to successfully navigate and balance all aspects of this situation. I also believe it's possible to successfully remediate the site's risk to the community health without placing the community at legal risk; without significantly disrupting the site redevelopment time-table; and without consuming the community's finances," Miles wrote.
Read Matt Miles' letter to county commissioners below: