A location in Kentucky also made the list.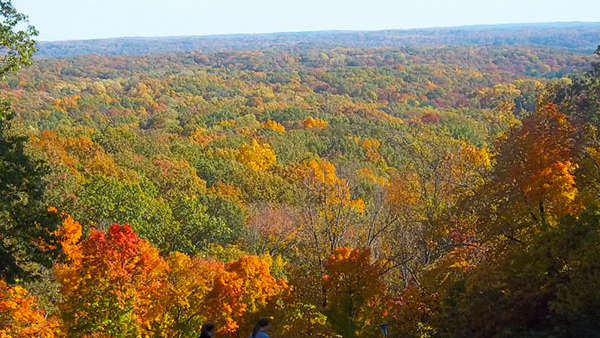 Brown County State Park. Photo by Indiana DNR.
(Brown County, Ind.) – The heart of Indiana is the place to be if you love fall foliage.
The Indiana DNR announced today that Brown County State Park ranks third on New York Travel Guide's recently published list of the 15 best state parks for fall foliage.
National Bridge State Resort Park in Kentucky also made the list.
To compile the list, the guide compared more than 600 parks nationwide in three categories, including reviews of fall colors, fall photography popularity, and each park's overall rating.
Brown County State Park, Indiana's largest, ranked sixth on a list of most beautiful state parks in the county last December. The park is also among the "most Instagrammed" state parks nationwide.
"Come experience and watch the fall colors explode over the rolling hills of southern Indiana's hardwood forests in Brown County State Park," said Terry Coleman, director of Indiana State Parks.
For more information on the nearly 16,000 acre state park, visit on.IN.gov/browncountysp.