The Gallery opened in 2018 and has made many changes to the building since then.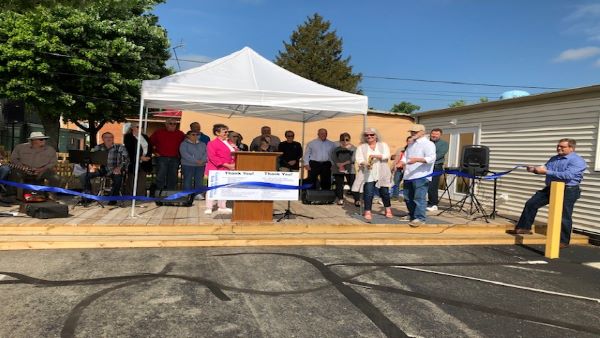 Photo contributed by Debbie Smith, Dearborn County Visitors and Tourism.
(Dillsboro, Ind.) - Saturday, May 11 was a day of celebrations and thank you's as Dillsboro Arts-Friendship Gallery inaugurated their new indoor/outdoor sound system.
The gallery opened at the beginning of 2018 and since then has hosted an array of events including art exhibitions, and concerts. The building has undergone many renovations since the beginning with new walls and a new HVAC system.
Those who have made great contributions and were recognized on stage at the ribbon-cutting include:
Artists:
Rebecca Davies & Thom Maltbie
Town Council:
Mary Lou Powers, Woody Fryman, Casey Finnegan, Tom Wafford, Dick Fedderman, Janice Sullivan, and Rita Stevens
Friendship Financial Services:
Tom Lewis, Julie Mathias, Bruce Murray, and Dana Bascom
Dillsboro Arts Board of Directors:
Rebecca Davies, Thom Maltbie, Mary Fields, Woody Fryman, and Alecia Fryman
Dillsboro Arts Program Directors:
Heather Tackitt and Sarah Mills
Dillsboro Arts Docents:
Mary Lou Powers, Linda Schierloh, Mary Fields, and Connie Mills
Lowes Community Heroes:
Frank Hamlin
Patronicity and Indiana Housing and Community Development Authority Donors:
Beautification of Dillsboro Inc.
Becky and Steve Chipman
Wayne Disbro
Karen and Paul Filter
Janet's Diner
Mary Lou Powers
Seth and Stacia McKeever
Woody and Alecia Fryman
Mary Fields
Dillsboro Community Partnership
Southeastern Indiana REMC Operation Roundup
Ross Foundation
Jerry Donselman
Jason Sturgeon
Walsh Construction Project managers:
Craig Zehr and Jack Hagerman, Superintendent Mike Bailey, Randall Morris, and Shane Collins
Dearborn Community Foundation
Lawrenceburg Community Grant Program
Dearborn County Chamber of Commerce
Dearborn County Visitors and Tourism