COO Chris Carle joined Eagle Country 99.3 on Thursday to talk about the transition from Highpoint Health to St. Elizabeth Dearborn.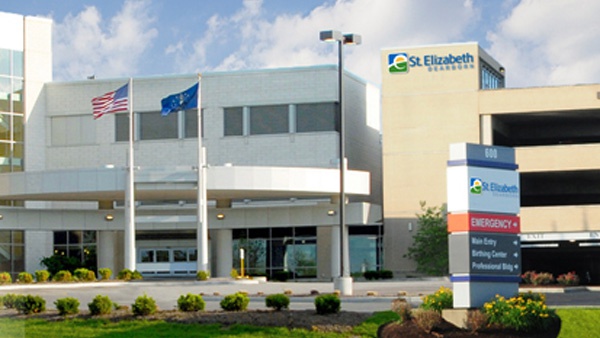 Photo via www.stelizabeth.com.
(Lawrenceburg, Ind.) - It has only been a few months, but the transition from Highpoint Health to St. Elizabeth Dearborn is going smoothly.
Chris Carle, Chief Operating Officer at St. Elizabeth Dearborn, joined Eagle Country 99.3 on Thursday afternoon to update the community on all the exciting things going on at St. Elizabeth Dearborn.
Last May, St. Elizabeth Healthcare announced they would invest approximately $50 million in capital projects and technology investments over the next five years to modernizing the healthcare services in Southeast Indiana. Last November, St. Elizabeth took over Highpoint Health, renaming the hospital St. Elizabeth Dearborn.
"We try to identify ourselves with the communities we serve," said Carle. "It's our vision that we make those communities the healthiest in America. We've got lofty goals, but we've always been able to obtain them."
Right now, Carle says the biggest thing that is going on at St. Elizabeth Dearborn is the conversion of electronic medical records to a platform known as EPIC. The Greater Cincinnati area is an EPIC community and the platform has about 60 percent of the electronic medical record market in the United States.
"If you go to any St. Elizabeth Hospital or you go to any other competitive hospital, God forbid, we'd like you to come to St. Elizabeth, you can access your information," Carle said. "We all have the same medical record. The physicians that might be treating you can access all that information."
Carle added that the conversion to the EPIC platform is a $5 million investment over the next few years.
HEAR DOUBLE T'S FULL INTERVIEW WITH CHRIS CARLE IN THE AUDIO PLAYER BELOW
As far as the staff goes, Carle says St. E was able to keep almost 99 percent of physicians in the community.
"We only lost two physicians in total," said Carle. "We were able to keep approximately 40 of the 20 sites we have throughout southeastern Indiana. So, lots of things going on, lots of good changes, and I can't say enough about the staff that work there and the quality of care they provide."
Retaining so many physicians from the previous regime keeps the patient and physician bond strong at St. E Dearborn. The hospital is also adding more specialists including Urology, GI, Electrophysiology, Cardiac Surgery, and Cardiology.
St. E Dearborn is also invested in board certified emergency room doctors.
"That's one of the things we bring to bear is our financial resources," said Carle. "Board certified emergency room docs are somewhat expensive because they have that certification and they are used to seeing those emergency patients. The group they had there before did a fantastic job. This is like the next level."
Some other things that St. E has done that Highpoint Health might not have been able to do on their own was "we now have 28 negative pressure rooms," Carle said.
The rooms have specific, special ventilation that takes air out. The hospital is now up to 28 negative pressure rooms on the medical/surgical floors, and the emergency rooms has five, and 100 percent of the ICU is negative pressure rooms.
"Again, those are kinds of things the expertise that we bring from our maintenance shop that we've been able to do that I don't know that Highpoint would have been able to afford in the past," said Carle.
Going forward, St. Elizabeth Healthcare has a five-year plan to continue access to high-quality healthcare close to home.
Within the next three to four years, St. E plans to build a cancer center at their Greendale site at I-275 and U.S. 50. The site currently houses an urgent care and specialty office. St. E also plans to create a hospital site in Greendale, that would include a full-service emergency department, a broad range of specialists, surgery center and impatient beds.
"We have a very aggressive five-year plan with a monumental investment in Dearborn County," Carle added. "We want to keep care here. We have the ability, we have the specialists, we have the staff, we have the technology. We want to keep people here right in Dearborn so that they don't have to go someplace else."
For more information about St. Elizabeth Healthcare, visit www.stelizabeth.com.
RELATED STORIES
Highpoint Health, St. Elizabeth Healthcare 'Talking' Collaboration
St. Elizabeth Healthcare & Highpoint Health: Transition To Secure Healthcare In Southeast Indiana
Highpoint Health Cancer Center Groundbreaking Expected This Year
Greendale Makes $500K Donation To Planned Cancer Center