The campaign for a $35 million cancer treatment center planned in Dearborn County continues to secure donations.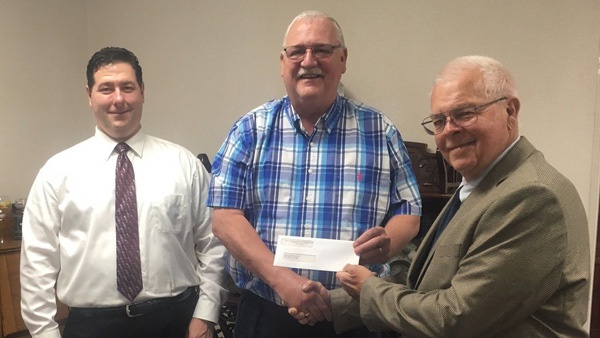 Photo provided.
(Lawrenceburg, Ind.) – Groundbreaking for a new cancer treatment center in Dearborn County is scheduled to happen later this year.
That's according to Highpoint Health, the Lawrenceburg-based healthcare provider leading the effort to establish the $35 million, state-of-the-art cancer center.
CEO Michael Schwebler has said the planned center will provide world class diagnostic, therapeutic and treatment services to patients.
To raise money for the initial investment, the Highpoint Health Foundation's Hearing Helping, Healing Campaign began in January. Contributions from local governments, organizations, and citizens have been coming in since the City of Lawrenceburg pledged $5 million.
On Tuesday, Highpoint Health announced a generous $50,000 grant from the Vevay-Switzerland County Foundation Inc.
"We greatly appreciate both the enthusiastic endorsement of the project by the Vevay-Switzerland County Foundation Board of Directors as well as their very significant financial contribution," stated Robert "Rocky" Schroeder, Highpoint Health Foundation Board and Highpoint Health Board of Trustees Member.
Sarah Siegrist, Highpoint Health Director of Charitable Development, cited Indiana State Department of Health data which shows 139 people died of cancer-related illness from 2008 to 2012.
"By supporting the Highpoint Health Foundation's Hearing, Helping, Healing Campaign, the Vevay-Switzerland County Foundation will help to make cancer detection procedures, treatment and survivorship care more accessible for the residents of Switzerland County, leading overall to better outcomes," said Siegrist.
"We are grateful for the Vevay-Switzerland County Foundation's financial assistance. This gift will help to improve the lives of individuals diagnosed with cancer."
Highpoint Health states financial support from businesses, organizations, government entities and individuals from throughout the region is necessary to ensure the success of the Hearing, Helping, Healing Campaign. For more information or to contribute, contact Siegrist at ssiegrist@MyHPH.org, (812) 537-8322 or 800-676-5572, ext. 8322. Foundation representatives are available to meet one-on-one with individuals or to address organizations and businesses.