Johnnie Tremain suffered burns on his hand and ears during a structure fire on Church Road in late September.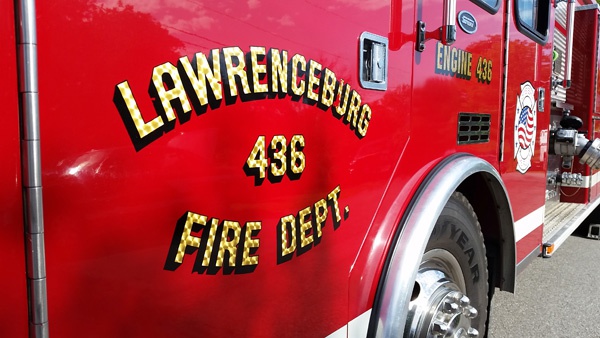 (Lawrenceburg, Ind.) - Lawrenceburg Fire Chief Johnnie Tremain is blown away by the support he's received since sustaining injuries while fighting a recent structure fire.
Tremain was among a group of five Lawrenceburg Firefighters that responded to a structure fire on Church Road on September 29.
Upon arriving at the scene, the firefighters encountered a working structure fire to an out building that was fully involved. "We don't have the luxury of having a fire hydrant every 500 feet, so we were relying on our truck water and a second unit coming in," said Tremain.
HEAR DOUBLE T's FULL INTERVIEW WITH CHIEF TREMAIN IN THE AUDIO PLAYER BELOW
The fire would advance into the nearby residence. Due to being shorthanded, Tremain got dressed to provide help inside.
"Something went on with my radio, so I decided to pull my hand out of my glove to adjust it and about that time an event happened upstairs."
Tremain added that he "thinks another part of the house lit off and everything went off above us and we all did what we were supposed to do by bailing down the steps." It was at that point that Chief Tremain sustained burns on his hand and ears.
A mayday was called and all firefighters self rescued
Tremain was transported to UC Medical Center where he spent the night in ICU with 2nd degree burns and potentially 3rd degree burns on his right hand, and 2nd degree burns on his ears.
Tremain says the burns on his ears healed quickly thanks to his wife, Kim.
"The thing about that fire that day was everything that could go wrong went wrong, including me getting burned and us declaring a mayday," said Tremain.
He returned to work last Monday but stated, "it will be a little bit of time before I get my levels of skin back on my hand."
"The outpouring of support from this community is amazing," said Tremain. "This community is great. It is just amazing the outpouring of support and prayers and everything. Thanks to Dearborn County, the community, the region for the support. It's been awesome.
RELATED STORIES