Event organizer Logan Lawrence presented the check on Friday afternoon.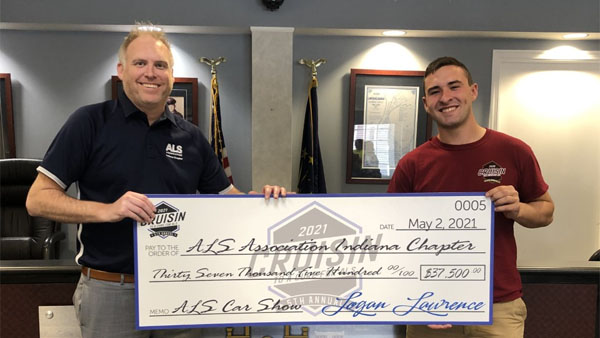 Logan Lawrence (right) presents a $37,500 check to the ALS Association. Photo by Miranda Boyles, Eagle Country 99.3.
(Lawrenceburg, Ind.) - There was plenty to smile about at a check presentation in Lawrenceburg.
The 5th Annual Cruisin' to a Cure for ALS Car Show on May 2 raised $37,500 for the ALS Association. On Friday, event organizer Logan Lawrence presented a check to an ALS Association representative at City Hall.
Lawrence hoped to raise $30,000 at this year's event, but a record-setting number of car show entrants (927) and support from the community helped push fundraising past the lofty goal.
"I didn't know if the $30,000 goal was possible," said Lawrence. "I'm already looking forward to next year and maybe setting the high goal of $40,000. Maybe we can make it happen."
The first five car shows organized by Lawrence have raised $126,000 for the ALS Association.
About half of the proceeds go towards assisting patients currently fighting ALS, while the other half goes towards research and hopefully finding a cure for ALS. The ALS Association hopes to make the disease livable by the year of 2030.
"I can't thank the City enough and everyone that came and supported it," said Lawrence.
Plans are already in the works for the 6th Annual Cruisin' to a Cure for ALS, which is scheduled for Sunday, May 6, 2022.
HEAR DOUBLE T'S INTERVIEW WITH LOGAN LAWRENCE IN THE AUDIO PLAYER BELOW