The intersection is the site of a historic Native American village.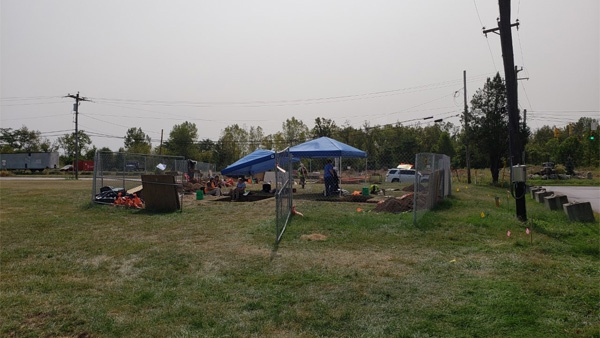 Archaeological digging continues at U.S. 50 and State Line Road. Photo by Travis Thayer, Eagle Country 99.3.
(Greendale, Ind.) - What's with all the digging at the intersection of U.S. 50 and State Line Road?
It is an INDOT sponsored project where ASC Group, Inc., an archaeological consulting firm, is working to complete a Phase III archaeological mitigation excavation prior to the installation of an improved intersection at U.S. 50 and State Line Road.
Kevin Schwarz, principal investigator for archaeology at ASC Group, Inc., tells Eagle Country 99.3 that 15 individuals have been working at the site for about four weeks. The crew is expected to continue their work for another four weeks on the Native American archaeological site to ensure its proper historical documentation so that the road improvement project can move forward.
"It was a village site," said Schwarz. "They call us in to excavate it and find out the information of what the people were doing when they were living here and so forth."
About half an acre of the site is in the proposed right of way for the project. The entire site is more than 10 acres, but not all 10 acres will be dug up.
"We are just taking samples, we aren't excavating the whole thing," said Schwarz.
The archaeologists are sampling test units, blocks and trenches on a 1-meter checker board grid to accurately record where artifacts and other finds are recovered from within the site. Tools used include shovels, trowels, and finer hand tools that carefully remove all soils and avoid damaging delicate artifacts.
Artifacts from the State Line site include prehistoric ceramics like pottery, arrowheads, animal bone, and stone tools such as hammer stone.
"We found a skull, that may have been a fox, coyote or some kind of dog," said Schwarz. "They were eating muscle, we found deer bone, and lots of pieces of jars that they used to do cooking and carry water, things like that."
Schwarz added that they look at the styles of the artifacts and use carbon dating to find out when they were living here.
Previous carbon dates that were collected for this site were from around 800 to 1,000 years ago. More specifically, the State Line site is a Woodland period mound center (ca. AD 100-AD 500) and Fort Ancient period (AD 1050-AD 1275) village site. The site provides evidence of early use of maize and consumption of waterfowl and turkey.
While many are curious about the digging, the ASC Group asks that visitors respect that they are working and wear a mask.
"We do like visitors but we are working here, so we ask people to respect that," said Schwarz. "If you do come on site you need to have a mask."