The wealthiest man on the planet made a surprise appearance in Boone County, where his company is building a massive new air shipping hub.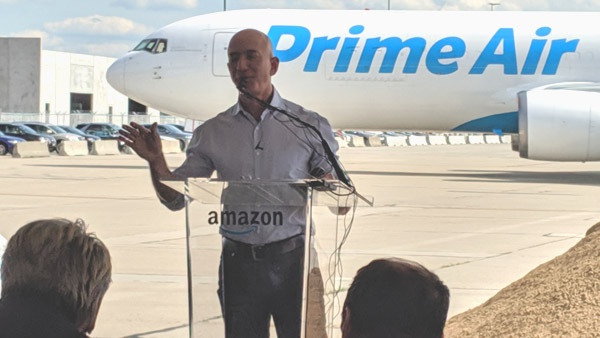 Amazon founder and CEO Jeff Bezos appeared at the groundbreaking for his company's new $1.5 billion air hub at Cincinnati-Northern Kentucky International Airport on Tuesday, May 14, 2019. Photo by Mike Perleberg, Eagle Country 99.3.
(Hebron, Ky.) - Amazon founder and CEO Jeff Bezos used an excavator to mark the groundbreaking of his company's new air hub at Cincinnati-Northern Kentucky International Airport, but he may as well have been burying FedEx and UPS.
Bezos made a surprise appearance at Tuesday's groundbreaking at the planned $1.5 billion facility in Hebron.
"This hub is going to let us get packages to customers faster and that's a big deal. We're going to move product from two-day to one-day and this hub is a big part of that," Bezos said as a press conference with two Amazon Prime jets looming behind him.
He then hopped into the driver's seat of an excavator and loaded a pile of dirt into its scoop.
The sprawling facility near Hebron will be three million square feet and crease more than 2,000 jobs. It is scheduled to open in 2021, becoming home to about 50 of Amazon's cargo jets. It will play a big role in helping Amazon offer Prime customers one-day shipping – announced just last month – while relying less on third-party shipping companies such as UPS and FedEx.
The hub is to be located on 1,100 acres and capable of handling more than 100 aircraft at once. CVG has already agreed to lease 900 acres to Amazon for 50 years, in addition to investing $5 million in new infrastructure. Last year, the company announced the purchase of about 200 more acres.
Also speaking at Tuesday's groundbreaking, CVG CEO Candace McGraw credited the many people at the airport, Amazon, Federal Aviation Administration, Boone County, and the state level who helped to make the project possible.
"An airport like CVG is about facilitating commerce. We thank Amazon for placing its faith in us as it brings its innovation and magic to the future of e-commerce with Prime Air," said McGraw.
Cargo moving through the airport has grown 54 percent over the past three years, making it the eighth largest cargo airport in North America. With Amazon's new investment, McGraw hopes to see that number skyrocket.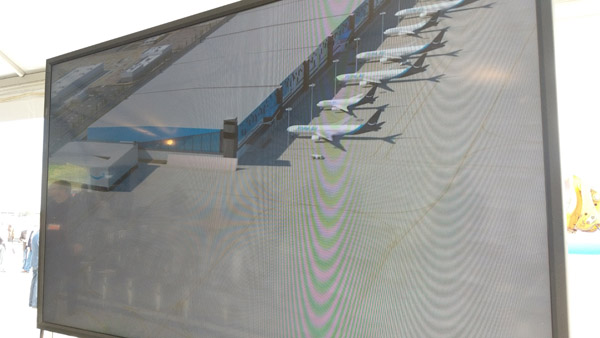 A video was played showing what Amazon's air hub at CVG will look like when completed. Photo by Mike Perleberg, Eagle Country 99.3.