A witness said the suspect's vehicle blew through a red light before going through a fence into the football stadium.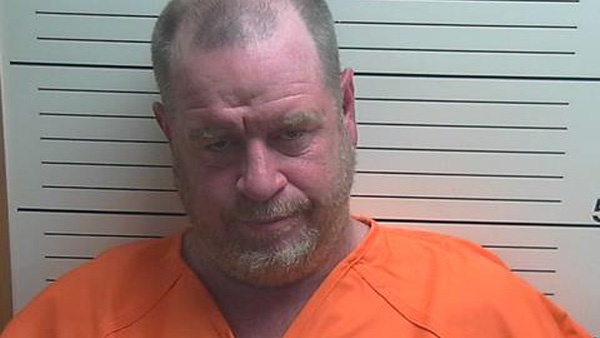 Daniel E. Backus. Photo by Dearborn County Sheriff's Office.
(Lawrenceburg, Ind.) - An accused drunk driver couldn't quite reach the end zone when his van went off U.S. 50 and crashed into the Lawrenceburg High School football stadium
Lawrenceburg Police responded to the crash around 1:00 a.m. on Sunday, May 5. They found a van had gone off the highway at Tiger Boulevard, through a metal fence and down a rocky embankment into the football stadium known as "The Pit." The van had stopped in a grass are just west of the end zone.
Officers arriving at the scene were met by the driver, Daniel E. Backus. He was not injured in the crash and had walked back up the rocky area onto Tiger Boulevard. They allegedly smelled the strong odor of alcohol on him and observed he was having difficulty maintaining balance.
Backus, 48, allegedly failed a field sobriety test and had a BAC of .144, close to double Indiana's legal driving limit on .08.
A witness to the crash told police that she observed Backus' van traveling north on Walnut Street. The van drove through a red light at the U.S. 50 intersection and then crashed through the fence down to the football field, she told officers.
Backus has been charged with two counts of Operating While Intoxicated and one count of Operating Without a License. He remains held in jail at the Dearborn County Law Enforcement Center as of Thursday.
The suspect has prior run-ins with the local law. In 2015, he was convicted of Possession of a Legend Drug and OWI. Then in 2017, he and a woman were arrested for allegedly attacking a woman in Aurora.
RELATED STORIES:
Former Drug Rehab Effort Leader, One Other Accused Of Battery