Another great season of EIAC basketball.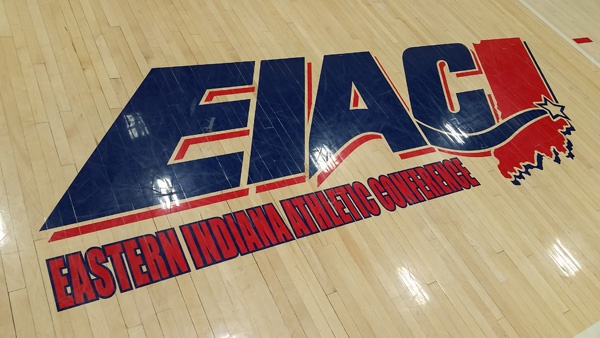 (St. Leon, Ind.) - Twenty-four basketball players have been recognized as the top players in the Eastern Indiana Athletic Conference for the 2021-22 season.
The EIAC released its Boys and Girls Basketball All-Conference Teams, MVPs and Coaches of the Year on Tuesday.
The East Central Lady Trojans won the EIAC for the second year in a row with a perfect 7-0 record in conference play. Junior Josie Trabel was named the EIAC MVP.
Against EIAC opponents, Trabel was second in scoring at 16.6 points per game, and first in field goal percentage at 66.7 percent. She also ranked in the top 10 in rebounds, assists, steals, and free throw shooting.
Trabel is joined on the All-Conference Team by Indiana All-Star and senior guard Hope Fox, sophomore Laney Baker, and junior Julia Tiemann.
Lawrenceburg (4-3 in EIAC) had two all-conference selections in senior Kirsten Cross and junior Lizzie Redar. Both were among the top six scorers in the conference.
The rest of the girl's all-conference team is made up of stars from Rushville, Greensburg, and Connersville.
East Central head coach Kevin Moore was named the EIAC Girls Basketball Coach of the Year after leading the Lady Trojans to their second-consecutive conference championship, and third-straight sectional title.
On the boy's side of the conference, Connersville captured the EIAC title with an unblemished 7-0 record behind all-conference players Tobey Billups and Josh Williams.
Franklin County's Chad Cox was named the EIAC MVP. Cox averaged 17.1 points, 5.0 rebounds, 3.1 assists, and 1.6 steals against EIAC teams. He also broke Franklin County's all-time scoring record. Brant Ertel also made all-conference for the third-place Wildcats.
East Central, Lawrenceburg, and South Dearborn combined for five all-conference selections. They are Caleb Merganthal (EC), Jadyn Dennis (EC), Jackson Bobo (L'Burg), Reese Willoughby (SD), and Eli Hoffman (SD).
Connersville head coach Kerry Brown is the EIAC Boys Basketball Coach of the Year.
The full 2021-22 Boys and Girls EIAC Basketball All-Conference Teams are listed below.
GIRLS
East Central (7-0) - Josie Trabel (MVP), Hope Fox, Laney Baker, Julia Tiemann
Rushville (6-1) - Annika Marlow, Briley Munchel, Sophia Dora
Greensburg (5-2) - Mylie Wilkison, Leah West
Lawrenceburg (4-3) - Kirsten Cross, Lizzie Redar
Franklin County (3-4)
Connersville (1-6) - Paige Dunaway
Batesville (1-6)
South Dearborn (1-6)
BOYS
Connersville (7-0) - Tobey Billups, Josh Williams
Greensburg (5-2) - Colin Comer, Ki Dyer
Franklin County (4-3) - Chad Cox (MVP), Brant Ertel
East Central (4-3) - Caleb Merganthal, Jadyn Dennis
Lawrenceburg (4-3) - Jackson Bobo
South Dearborn (3-4) - Eli Hoffman, Reese Willoughby
Batesville (1-6) - Thomas Raver
Rushville (0-7)