The Tigers are coming off one of the best seasons in school history.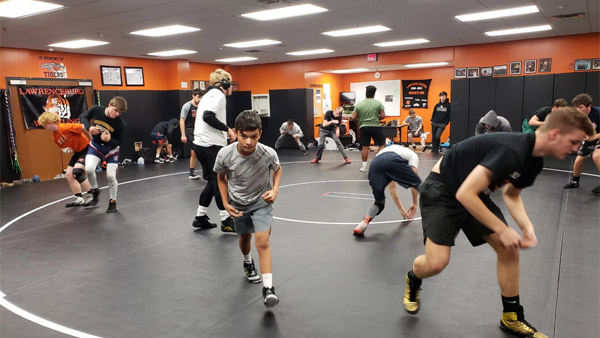 The Lawrenceburg Tigers wrestling team prepares for the 2019-20 season. Photo by Travis Thayer, Eagle Country 99.3
(Lawrenceburg, Ind.) - There is a lot of talent in the Lawrenceburg Tigers wrestling room.
The Tigers are coming off one of the best seasons in school history, finishing with a 29-5 record. Lawrenceburg also sent four wrestlers to semi-state.
Three of those wrestlers, Grant Stapleton, Spencer Gordon and Andrew Roberts, have graduated. Although, Roberts is still a part of the team as an assistant coach.
"I feel good," said head coach Jeremy Shepherd. "One of the senior captains that we lost is actually my assistant coach this year, Andrew Roberts. "You can't go wrong when you bring in someone who went to semi-state, a leader, a captain. He knows his stuff. We've lost some good kids but we also have some coming back this year."
Expectations remain high this year as the Tigers look to win their first conference championship in school history.
"Lawrenceburg has never won conference," said Jeremy Shepherd. "Last year we came up five points short. So we are definitely shooting for conference and sectional and even regional. Taking each match one match at a time is our goal."
One of the key pieces to the Tigers title hopes is senior Andrew Roth. Last season, Roth finished with a 25-5 record and made it all the way to semi-state. Roth hopes to make it one step further to the State Finals this season
"I'd like to punch through that wall to make it to state. That would be awesome. Lost in the second round to the two-time defending state champion, so I remain positive I can get there this year."
Roth will co-captain this year's Tigers team with fellow senior Kaleb Conrad.
"It's awesome, you know I've been waiting four years now and its finally happened," said Roth. "Can't wait to have an exciting year. We went 29 wins last year and we hope to bump it up to 30 plus.The first goal is to win conference, that would be awesome. But to begin with we need to win the first few meets to get it rolling."
Aside from Roth, Tigers sophomore Corbin Walston made it to semi-state as a freshman.
"Making it to semi-state as a freshman, I really feel like I can make it out this year and punch my ticket to state," said Walston "I just gotta come in here everyday and work hard, push my partners, make them push me, keep my weight right and stay healthy."
The Tigers also return three wrestlers that made it to the Regional in 2018. They are Kaleb Conrad, Jayce Bohan and Noah Rowlett.
The rest of the roster is filled out by Ethan Smith-Burk, Micah Foster, Vincent Bamonte, Dawson, Kinman, Marshall Kinnard, Zach Bill, Jake Schwarz, Jack Bradley, Dakota Tribbie, Javier Payne, Waylon Lambert, Erin Wrinleman, Kendall Myers, Gabe Heurich, Dominic Tribbie, Skylar Gottshal and Alex Volz.
There are more wrestlers on the roster than there are spots to compete at meets. Coach Shepherd says "wrestle-offs" will take place at practice to determine who competes at weekly meets.
Lawrenceburg will open their 2019-20 season on Saturday, December 7 at the Milan Invitational, a meet they won to start last season.