Defenses won't be sad to see him move on to college.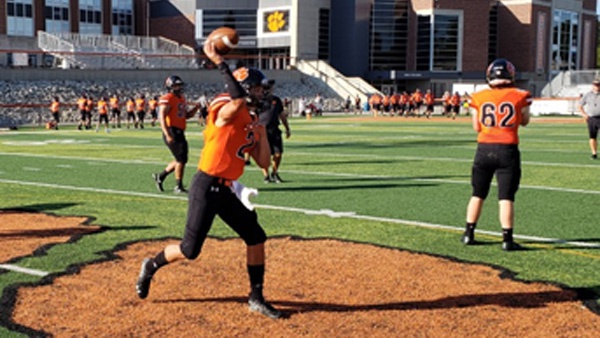 Garrett Yoon. Photo by Travis Thayer, Eagle Country 99.3.
(Lawrenceburg, Ind.) – Only 12 players in Indiana high school football history have thrown for 9,000 or more yards.
Lawrenceburg senior quarterback Garrett Yoon became the 12th player on the list in a heartbreaking 31-29 loss to Gibson Southern in the regional championship on Saturday.
Yoon and the Tigers went toe-to-toe with Gibson Southern and Purdue commit Brady Allen, who is also on the list of players to throw for over 9,000 career yards.
The Tigers star accounted for 231 passing yards and three touchdowns, while rushing for 140 yards and a touchdown.
Yoon finishes his brilliant high school career with 9,115 passing yards.
His 146 career touchdowns equals 876 points, which is among the tops in state history. For comparison, record holder Charlie Spegal (New Palestine, 2019) scored 1,054 career points.
During Yoon's four years as starting QB, the Tigers went 38-12, winning three conference championships, and three sectional championships.
For more information on career and single season statistical leaders, visit Football All-Time Statistical Leaders (ihsaa.org). Note: active players have yet to be added to the statistical leaders page.
Kid can play! Someone will get a great player and a great kid! Go Tigers! https://t.co/HDrvrCqbMQ

— Ryan Knigga (@lhstigercoach) November 15, 2021