Tempest Shockers win Gatlinburg Spring Classic U14 Tournament.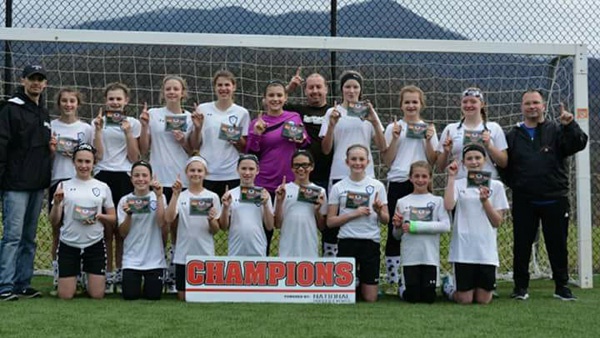 Photo provided.
(Gatlinburg, Tenn.) – A spring break trip to the Smoky Mountains culminated with a tournament championship for the Tempest Shockers U14 soccer team.
Coach Keith Cheek says the Shockers traveled to Gatlinburg, Tennessee March 24 through 26 to kick off their 2018 spring soccer season in the Gatlinburg Spring Classic U14 Tournament.
The Shockers would storm through the first day of the tourney pitching two shut-outs against teams from Tennessee setting up a must win game Sunday morning against local rival Kolping FC. The Shockers would shut down Kolping 1-0 in a tough and physical third game to advance to the championship match, according to Cheek.
In the championship, the Shockers won over Kentucky's fourth-ranked CKY Storm 2-0 in a dominating performance. Lexi Watkins scored both goals. The defense allowed only three shots during the 70 minute final.
The Shockers will now enter Buckeye league play as they prepare for a run at the Indiana Presidents Cup this spring.
The Tempest Shockers' roster includes Ashtyn Gindling, Reagan Horn, Emma Davis, Olivia Hopper, Myah Boze, Jayden Wilson, Grayson Drew, Lexi Watkins, Abby Lane, Emma Deters, Abby Welch, Kami Cheek, Brooklynn Ward, Juliet Strange, Chloe Faught and Mia Howard.
The Shockers are coached by Chris Hopper, Keith Cheek and Sean Wilson.