The Yellow Jackets will host Lawrenceburg tonight at 7:30.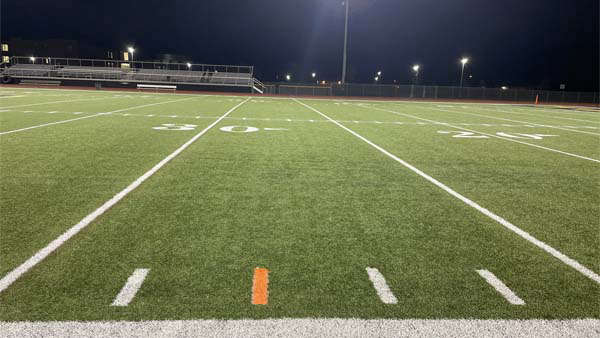 Photo by Taylor Athletics.
(Cleves, Oh.) – Taylor High School will honor the late Brady Gabbard with a special marking on its football field tonight when the Yellow Jackets host Lawrenceburg.
Athletic director Larry Herges announced Thursday that the hash marks on the 28-yard line have been painted orange in memory of the 14-year-old, who passed away in early July after a battle with cancer.
The Taylor student section will also wear orange to show their support to the Gabbard family and Lawrenceburg community.
The Battle for Route 50 will kick-off at 7:30 p.m.
Lawrenceburg is looking to bounce back from an opening week loss versus East Central, while Taylor looks to improve to 2-0.
Yellow Jackets head coach David Dransman picked up his first career varsity win last Friday against Greenon.
We honor Brady Gabbard by painting the 28 yard line hash marks on the field ORANGE!!! This ones for #28!!! @LBurgFootball @lhstigercoach pic.twitter.com/8aXgKBDGXO

— Larry Herges (@taylorsportsAD) August 27, 2021