South Dearborn and Lawrenceburg each had two wrestlers pin regional weight class championships.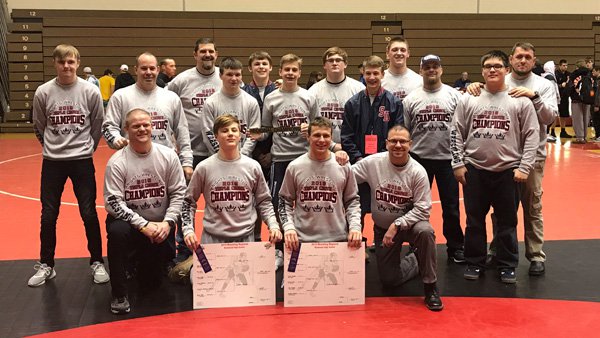 South Dearborn Knights Wrestling won the IHSAA Regional at Richmond on Saturday, February 2. Photo courtesy South Dearborn High School.
(Richmond, Ind.) – South Dearborn High School's wrestling team had two weight class champions and two runners-up in claiming the team title at the IHSAA Wrestling Regional meet at Richmond High School on Saturday.
South Dearborn's 99.5 team points helped them best second-place finisher East Central's 89 points. It is the Knights second regional team title in as many seasons.
Southeastern Indiana teams dominated the regional meet, with Lawrenceburg placing third with 81 points and Milan fourth with 64 points.
The SD Knights' two champions were sophomore Bryer Hall (33-0) at 145 lbs. and senior Zach Otto (26-4) at 152 lbs. Hall pinned East Central's Ben Wolf (32-9) in the first period. Otto bested Lawrenceburg's Andrew Roberts (27-3) with a 7-4 decision in the final.
Fellow Knight Zach Dick (26-7) was a runner-up at 220 lbs. The South Dearborn senior was pinned late in the early third period by Northeastern's Cullen Browning (36-2). Senior Austin Boggs (26-7) was pinned in the second period by Cambridge City Lincoln's Hunter Brown (26-3) in the 132 lbs. championship match.
More than one Otto will be making an appearance at semi-state for South Dearborn. Sophomore Eli Otto finished third at 106 lbs. and freshman Isaiah Otto was third at 120 lbs. It may be the first time three brothers have ever advanced to a wrestling semi-state in Indiana.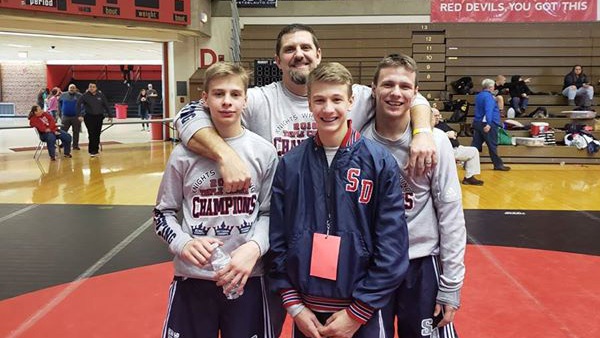 The three Otto brothers for South Dearborn are going to semi-state. (Left to right) Eli, Isaiah, and Zack with proud father Doug Otto. Photo provided.
East Central did not have a regional champion in any weight class, but the Trojans were perhaps the most consistent team. They best performances were by Wolf and sophomore Kole Viel (24-7), who was second at 182 lbs.
Lawrenceburg had two Tigers become champions. Senior Spencer Gordon (22-4) pinned Rushville's Dylan Galusha in the 113 lbs. championship match. Grant Stapleton, a senior with an undefeated 34-0 record this season, got a tech fall victory against Milan's Shane Lonneman (31-7) in the 126 lbs. final.
Besides Lonneman, Milan had another runner-up. Junior Garrett Condo (34-2) lost a close 4-2 decision to Richmond's Jake Necessary (32-6) in the 106 lbs. final match. The Indians did not have a sectional champion.
The top four place finishers in each weight class advance from the regional meet to the IHSAA Wrestling Semi-State at New Castle, scheduled to take place Saturday, February 9.
Find full meet results at http://www.ihsaa.org/Portals/0/boys%20sports/wrestling/2018-19/201819RichmondRegional.pdf.
Oh Yeah!!!!! Senior Zach Otto is the 2019 Richmond regional 152lbs CHAMPION!! 🔵🔴🔵🔴

— South Dearborn H.S. (@SouthDearbornHS) February 2, 2019
Wooohooo!!! Breyer Hall is you 2019 Richmond regional 145lbs Champion! Pinning his opponent in 10 sec! On to semi-state! 🏆🏆#WeAreSD #TheKnightWay

— South Dearborn H.S. (@SouthDearbornHS) February 2, 2019
@grantpstapleton wins by tech fall 17-1 to finish first at Regionals! pic.twitter.com/SjPoIZQ9DC

— LHS Wrestling (@LburgWrestling) February 2, 2019
@SpencerHookit gets the pin to finish first at Regionals! pic.twitter.com/6DcIes4xNt

— LHS Wrestling (@LburgWrestling) February 2, 2019
Shane Lonneman gets the 2nd place Regional finish at 126. Good luck next week at semi state. pic.twitter.com/4Qs9H0NOst

— Milan Athletics (@MilanAthletics) February 2, 2019
Condo with the second place finish in Regional 106lb Good luck next week in Semi-State. pic.twitter.com/pIsl1Hq9y3

— Milan Athletics (@MilanAthletics) February 2, 2019