They defeated Switzerland County and Greendale.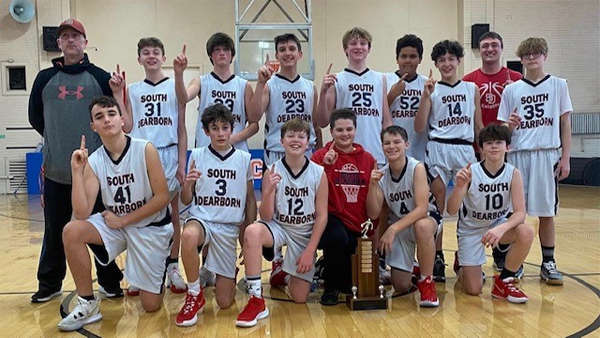 Back row (left to right): Coach Mark Morris, Zac Cassini, Tre Taylor, Elliot Meek, Mason Hamlett, Alijah Hawkins, Cameron Campbell, Coach Seth Couch, Gage Harris. Front row: Garrett Clawson, Alex Probst, Noah Rogers, Cooper Heizer, Izaak Lozier and Grady Walter. Photo provided.
(Vevay, Ind.) – Four teams competed but only one could be crowned champion at the 8th grade Rivertown Classic.
South Dearborn cut down the nets at Switzerland County on December 4.
The Knights defeated Switzerland County 37-35 in the first round, before knocking off Greendale in the championship game by a score of 41-34.
In the championship game, Grady Walter led the Knights with 14 points, including four made three-point baskets. Elliot Meek chipped in with 9 points, and Alex Probst had 8 points.
Mason Hamlett and Noah Rogers rounded out the scoring with five points each.