McClanahan also stars for the Lady Knights basketball team.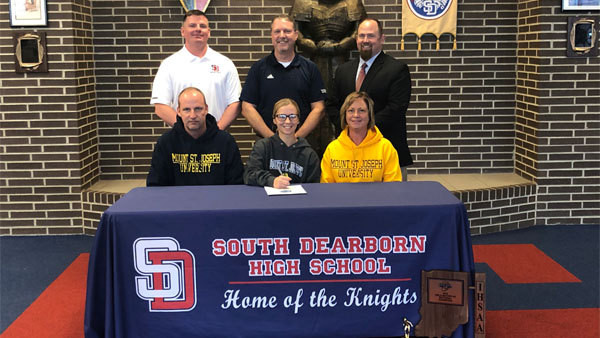 Alyssa McClanahan will spend the next four years at Mount St. Joseph University. Photo by South Dearborn Athletics.
(Aurora, Ind.) - A South Dearborn High School soccer star is set to play soccer at the collegiate level.
Alyssa McClanahan signed her letter of intent Thursday to continue her academic and athletic career at Mount St. Joseph University.
McClanahan was joined at the special signing day ceremony by her parents, Dave and Kathy, athletic director Ryan Walston, South Dearborn girls soccer coach Bob Matola and principal Jeff Bond.
According to MaxPreps, McClanahan tallied eight goals and seven assists during her senior year.
McClanahan also stars on the South Dearborn girls basketball team. So far this season, she is averaging 8.7 points, 2.5 assists, 2.3 rebounds and 1.7 steals per game.