He invited 61,102 of his best friends to watch.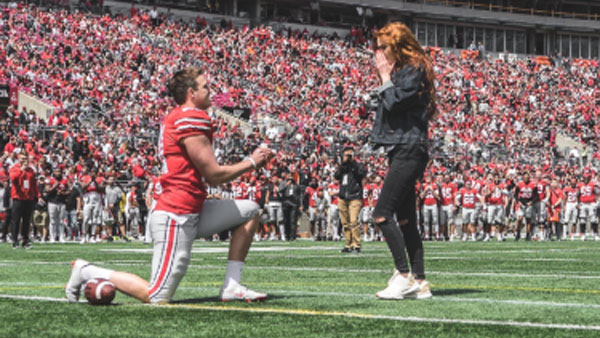 She said yes! Photo by Ohio State Football (@OhioStateFB).
(Lawrenceburg, Ind.) - Drue Chrisman is an All-American caliber punter, a world-class bottle flipper and a soon to be husband.
Chrisman, a redshirt junior at Ohio State University, proposed to his girlfriend and Lawrenceburg High School graduate, Avery Eliason, in front of 61,102 fans during the Buckeyes' Spring Game on Saturday.
The proposal came during a fake kicking competition. Chrisman was already on one knee, prepared to hold the ball, when he popped the question.
She said yes and the two were met with congratulations from all of Chrisman's teammates.
Drue Chrisman with one of the smoothest proposals of all time.

She said yes, of course. pic.twitter.com/p7KAvsRgpl

— Eleven Warriors (@11W) April 13, 2019
Hey @averyanne33, what are you doing for the rest of your life? pic.twitter.com/kNQBDbRaaJ

— Drue Chrisman (@DChrisman91) April 13, 2019
She wanted a shot at the real deal... certainly no ring this time😅😂 pic.twitter.com/ybmDjjImPc

— Drue Chrisman (@DChrisman91) April 14, 2019