Don't forget to pack golf balls with those school supplies.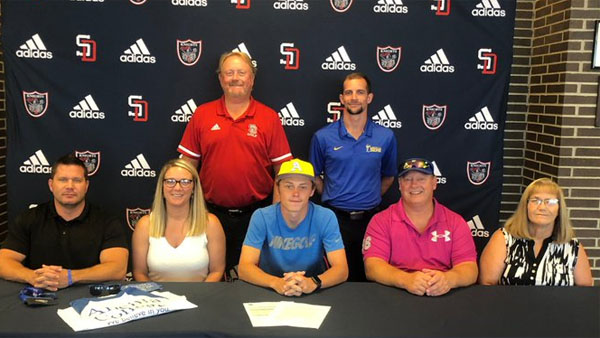 Pictured left to right: Step-father, Mike McCoy, Mother, Margo McCoy, Mason Mastropaolo, Grandfather, Dan Mastropaolo, and Grandmother Peggy Mastropaolo. Back row: SDHS Head Golf Coach, Gary Louden, and Ancilla College Head Coach, Joe Steenbeke. Photo by South Dearborn Athletics.
(Aurora, Ind.) – Mason Mastropaolo is set to continue his academic and athletic career at the collegiate level.
The South Dearborn athletic department announced Monday that Mastropaolo play golf at Ancilla College next season.
The former South Dearborn star is a four-year varsity letter winner and an All-EIAC golfer. This past season, he finished 10th at the EIAC Meet, helping the Knights to a runner-up finish.
Ancilla will begin the 2020 season on April 13, 2020 at the Ancilla College Invitational.