Daugherty has been a key cog in the Knights offensive line for the past three seasons.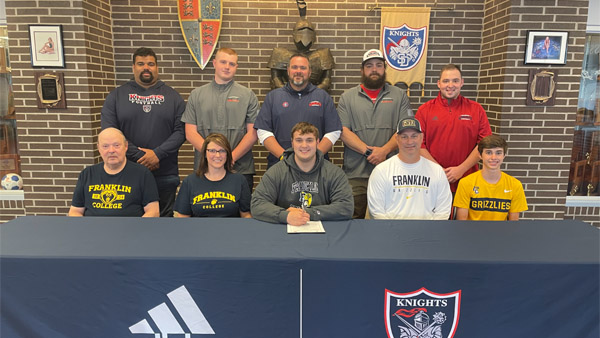 Front Row (left to right): Jon Libbert (Grandfather), Beth Daugherty (Mother), Andrew Daugherty, Chris Daugherty (Father), Jacob Daugherty (Brother). Back Row (Coaching Staff): Kenny Higgins, Brayden Milish, Rand Ballart (Head Coach), Albert Larkin, Jackson Bond. Photo by SD Athletics.
(Aurora, Ind.) – Andy Daugherty has brains and brawn.
On Monday, South Dearborn High School athletic director Ryan Walston announced that Daugherty will take his strength and smarts to Franklin College.
Daugherty has a 4.0 GPA and is a member of the Ultimate Knight Club for his abilities in the weight room.
On the field, Daugherty is a three-year letterman and has received numerous awards for his play on the field, and for his excellence in the classroom.
In 2020, Daugherty was one of seven Knights named to the IFCA Academic All-State Team.
He joins a Franklin roster that currently features players from Milan, Greensburg, and Rushville.