The game will take place January 14 at the NRG Park, the home of the Houston Texans.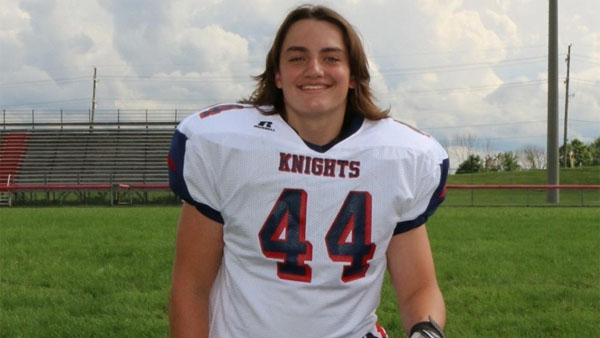 (Aurora, Ind.) – The Indiana high school football season may be over, but one South Dearborn Knight has another big game in his future.
Senior linebacker Axel Bell was recently selected to play in the 2019 Blue-Grey All-American Bowl on January 14 at the home of the Houston Texans.
The annual game featuring Team Lone Star and Team 49 will be broadcast nationally on ESPN3. The Lone Star squad will be made up of Texas players only as they defend the Star against All-Americans from the other 49 states.
Bell is one of 60 senior recruits that were selected from over 6,750 players who competed at regional combines in 2018 or were nominated by the Blue-Grey staff.
As a senior, Bell had 58 total tackles, including 16 sacks, which broke the previous record of 14 that stood for 35 years.
Bell remains uncommitted to a college program but will have an opportunity to impress over 650 colleges that will be viewing or scouting the game in person. Over the last three years, nearly 90 percent of Blue-Grey All-American's earned football scholarships before or after their bowl game.
Another perk of playing in the Blue-Grey game is being coached by a staff filled with NFL veterans.
Blue-Grey Football was established in 1989 to help prep prospects from all over the country receive national exposure and increase their chances to secure scholarships to a college, whether that be at the NCAA Division I level, or II, III, NAIA or Junior College.