The competition took place during the annual Rivertown Classic on Saturday, January 11.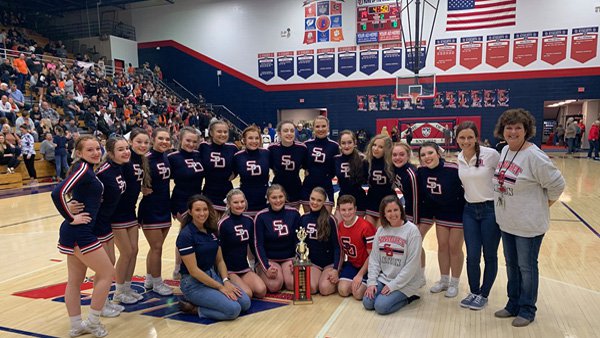 (South Dearborn High School Competition Squad. Photo by Katie McLaughlin)
(Aurora, Ind.) - For the third year in a row, South Dearborn cheerleaders have claimed the title of Rivertown Classic champs.
Each squad had 2 minutes and 30 seconds to present their skills including, jumps, dance and formations, stunts, tosses, pyramids, and tumbling, to Indiana State Cheer judges.
Although all four squads displayed excellent athleticism, SDHS cheerleaders were able to pull away from the other schools by having increased difficulty.
South Dearborn High School - 234.4
Lawrenceburg High School - 233
Switzerland County High School - 221.6
Rising Sun High School - 213.1
South Dearborn cheerleading head coach, Lisa West, says that the talent from all schools was highly impressive.
"Cheerleading at the competition level is extremely demanding. The four schools in Rivertown are all pushing boundaries and continue to improve, so this bringing home the championship is a thrilling honor. We have great coaches who find creative ways to develop our talent, both on the competition floor and on the game day sidelines," says West.
You can find videos of all teams competing on the Eagle Country 99.3 Facebook page.