South Dearborn and East Central have rescheduled their Week 6 football game for Saturday, September 26.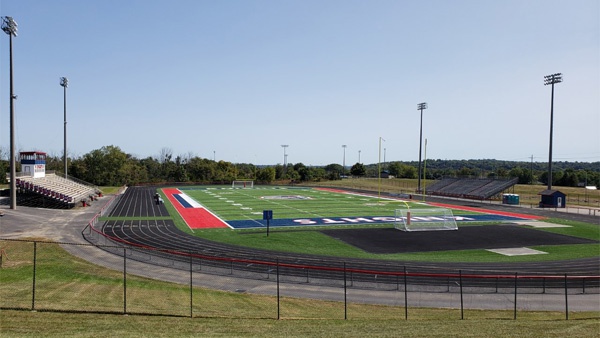 The South Dearborn High School band preparing for homecoming. Photo by Travis Thayer, Eagle Country 99.3.
(Aurora, Ind.) – A huge matchup in the EIAC 4A Division has been rescheduled.
The South Dearborn High School athletic department has announced that the varsity football game against East Central will be played on Saturday, September 26 at 7:00 p.m.
The reschedule date is a day later than the game was previously scheduled to be played. South Dearborn did not play this past Friday due to a COVID-19 mandated quarantine.
Saturday's game will be the first on the new Backman Field. It will also be homecoming.
A special ribbon cutting ceremony will be held prior to the game at 5:15 p.m. Gates will open at 4:30. Homecoming festivities will take place at halftime.
Ticket sales will open to the general public on Wednesday. Cost is $5 for stadium seating. A reduced $3 ticket can be purchased during the event to enter the fan zone, which will be located outside of the western fence behind the scoreboard. The driveway and lawn will also be closed and fenced off for fan zone seating.
Fan zone tickets can only be purchased during the event and is first come first serve with a max of 350 tickets in that zone.
Eagle Country 99.3 plans to broadcast Saturday's game. Pre-game coverage will begin at 6:40 p.m.
RELATED STORIES:
SD Football Players In Quarantine; Greensburg Game Cancelled, EC Game On Hold
South Dearborn HS Turf Field Approved 4-3 At Tuesday's School Board Meeting
South Dearborn HS Has Sights Set On Multi-Purpose Turf Field After Big Donation