The Shiners won the ORVC Championship this season with a perfect record in conference play.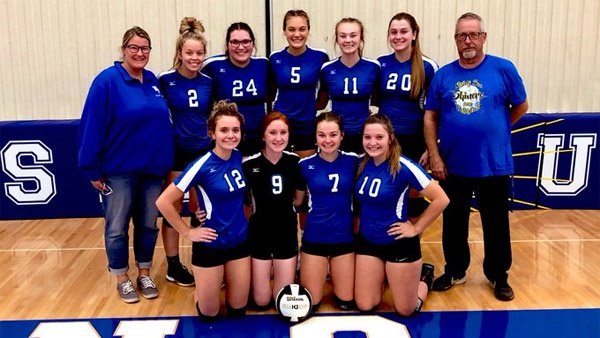 Photo by Rising Sun Athletics.
(Rising Sun, Ind.) – The Ohio River Valley Conference has announced its top volleyball players for the 2020 season.
The 2020 ORVC Volleyball All-Conference Team was released on Monday.
Conference champion Rising Sun led the way with four All-Conference selections. They are Tyrrah Miller, Lindsay Montgomery, Baylee Morris and Cora Poling.
Shiners head coach Ken DeDreu is the 2020 ORVC Volleyball Coach of the Year.
The ORVC Mental Attitude Award went to Jac-Cen-Del's McKenzy Gray.
The full 2020 ORVC Volleyball All-Conference Team is listed below.
Aundrea Cullen, JCD
Kylie Eccles, Southwestern
Nora Hankins, Switzerland County
Angela King, Milan
Lina Leatherman, Shawe
Brionna Linkel, South Ripley
Rachel Meyer, South Ripley
Tyrrah Miller, Rising Sun
Lindsay Montgomery, Rising Sun
Baylee Morris, Rising Sun
Marissa Naylor, Southwestern
Cora Poling, Rising Sun
Ashleigh Ream, Southwestern
Sophie Thomas, Milan
Shaylee Volz, JCD