Seven new members will be inducted at the Ripley County Basketball Tournament on January 5 at South Ripley High School.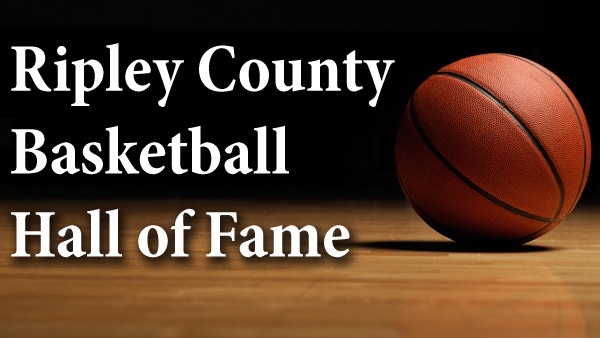 (Ripley County, Ind.) – Seven new members are set to be inducted into the Ripley County Basketball Hall of Fame Class of 2019.
The seven new members include Mike Cutter, Staci Edwards Schroeder, Amy Myers Armstrong, Mary Simon McCoy, Art Thomas, John Ward and Bill Hisrich.
The new hall of famers will be formally inducted at the Ripley County Basketball Tournament at South Ripley High School on January 5.
Bio's for the Hall of Fame Class of 2019 are listed below.
Michael James Cutter (Milan High School, 1980)
Mike Cutter, left his mark in Milan High School Basketball history.
Mike was a three-year starter for the Indians and put up some very impressive numbers his senior year while being named the team's MVP. He not only averaged 17.8 points per game as a senior, but led his team in assists for the third straight year. Mike made Milan tick. He was a two-time all-county selection, two-time all conference selection (MVP as a senior), and two-time all-sectional selection. His 30-point double overtime performance that led Milan to a 59-56 sectional championship win over East Central allowed him to walk away with Sectional MVP honors as well.
Mike attended Catawba College in Salisbury, North Carolina on a full athletic scholarship. A 4-year letterman there, Mike's Catawba Indians appeared in two NAIA National Tournaments, garnered a #1 ranking and won 86% of its games with Mike at the point guard.
Mike graduated from Catawba with a B.A. in Business Administration. He is currently the owner of a home care agency. He and his wife of 32 years, Cheryl, reside in Tennessee. The couple are blessed with three children: Stephanie, Tyler, and Becca and also have three grandchildren.
Staci (Edwards) Schroeder (Batesville High School, 1990)
Staci Schroeder graduated from Batesville High School in 1990. The Bulldogs were dominant in the area and recognized state-wide during Staci's high school career. Coach Art Brebberman's girls were ranked as high as third in single class basketball, were winners of the prestigious 1989 City Securities Hall of Fame Classic Tournament. Schroeder also helped Batesville to three sectional championships, one regional championship and a 25-1 record during her senior season.
Schroeder was a three-sport athlete that lettered nine times. In basketball, she was a four-year starting point guard that averaged 9.7 points a game as a senior and shot at a 46% accuracy clip. Staci also gave the Bulldogs an average of two steals, one assist, and plenty of defense to drive the opponent crazy. Staci garnered all-sectional honors three times and was named Honorable Mention All-State by Hoosier Basketball Magazine two years.
Staci earned a Bachelor of Science Degree in nursing from Indiana University and is currently a registered nurse at St. Francis Hospital in Indianapolis. She and her husband, Shane, reside in Fishers along with their two children, Luke and Chloe.
Amy (Myers) Armstrong (South Ripley High School, 1989)
Amy Armstrong graduated from South Ripley High School in 1989. She and her Raider teammates, under the tutelage of Coach Bev Linkmeyer, enjoyed a Ripley County Basketball Championship and garnered a Sectional Championship in Amy's first two years on the varsity squad. Perhaps more impressive is the Lady Raiders were crowned ORVC All-Sports Champs each of the four years of Amy's high school career and Amy was a big part of that.
Amy's love for competition was recognized early when she was the lone girl playing little league baseball in Versailles. An accomplished athlete in three sports, in the sport of basketball, Amy still holds the record for the highest points per game average in a season for the Lady Raiders at 20.6 as well as most rebounds in a season with 246; both milestones achieved in her senior year.
After being enticed with scholarship offers in volleyball, basketball, and track and field, Amy accepted a full ride scholarship to Northern Kentucky University to play volleyball and was a starter for the Norse her freshman and only year at NKU.
Now a stay at home mom, Amy is married to Pat Armstrong and they are the parents of four children, Brenna, Maggie, Sean, and Brady. The Armstrong family calls Fishers their home.
Mary (Simon) McCoy (Jac-Cen-Del High School, 1986)
Jac-Cen-Del's Mary McCoy graduated in 1986. Early foul trouble by the team's starting center in a game early in Mary's sophomore campaign caused Coach Maurice Meyer to go to the bench. His choice was Mary Simon. Mary responded by scoring in double figures and that performance propelled her into the starting role she wouldn't give up.
Despite Jac-Cen-Del's long, rich, successful history in girls basketball, Mary, now 33 years post high school graduation, still finds herself in the top ten in several categories. She ranks second all-time in career field goal percentage at 57%. Mary's career numbers of 862 total points and 505 rebounds over 65 games are 7th and 9th respectively on the prestigious, all-time list. She averaged 18 points per game her senior campaign which ranks her just outside the top ten at number eleven. During her days as a Lady Eagle, Mary was named team MVP twice, was all-conference twice, all-sectional three times including MVP honors her senior year, and all-regional once.
After graduation from Jac-Cen-Del, Mary attended St. Mary's College where she obtained a bachelor of arts degree in Applied Mathematics. She later earned her teaching certification and a master's degree in education. Currently, she is a math teacher at South Dearborn High School. Mary and husband, Gary, reside in Holton.
Arthur Gene Thomas (Cross Plains High School, 1962)
Arthur "Art" Thomas was a 1962 graduate and saw varsity action as a freshman for the Wildcats. He remains the third highest scorer in Cross Plains basketball history with a total in excess of 800 points.
Art was a three-year starter for Cross Plains. After scoring at a 6-point clip his sophomore year, he filled the nets for an average of 13.5 points as a junior and tossed in a season high 29 points in a single game that campaign. Art's points per game average his senior year was an impressive 20.4 points per game and he repeated his single game high of 29 points. He was a two-time All-Sectional Team selection, was named to the All-County team as a senior, and was tabbed Tri-County All-Conference as a senior as well. His overall athleticism is what many remember about Art. In fact, Art was offered a full ride scholarship to play baseball at Florida State University, an offer he did not accept.
Art returned to Cross Plains and he and his wife of 50 years, Debbie, are the proud parents of two children: Kevin and Amy (Thomas) Linkel and is grandpa to three. Art received an honorable discharge from the United States Army in 1971 at the age of 27 and although he is officially a retired carpenter, Art still finds himself an active 74-year old farmer in Cross Plains.
William "Bill" Hisrich (Batesville High School)
Bill Hisrich is being recognized this evening for the Ripley County Basketball's Hall of Fame's meritorious award.
"Mr. Bill" has evolved to one of the most distinguished voices at Ripley County sporting events. Bill announced all levels of Batesville football for a span of 48 years ending in 2015. He continues to announce boys and girls varsity and reserve basketball games going on now for 48 and 40 years respectively. Special announcing opportunities for Bill occurred at Bankers Life Field House, Hinkle Field House, the RCA Dome and Lucas Oil Stadium. Bill was "the announcer" for a period of ten years when all games of the Ripley County Tournament were held at Batesville. He is dedicated to the youth of Batesville and the youth of Ripley County.
Bill earned a BA and MBA in Business at the University of Cincinnati. Employed as a banker, he also served a stint with the United States Army and was a Captain at Fort Hood, TX. Bill and his late wife, Marty, are parents to two daughters, Liz and Angie. Bill resides in Batesville.
John H. Ward (Jac-Cen-Del High School)
John Ward is being recognized this evening for the Ripley County Basketball Hall of Fame's meritorious award.
A book could be written about John Ward's involvement with Ripley County Basketball spanning 70 or so years. Unique to John Ward is the fact that he has impacted Ripley County Basketball by fulfilling numerous roles: as a player, a coach, an athletic director as well as a principal! To the board's knowledge, no other inductee has ever worn these four hats. Following his retirement in 1996 from Jac-Cen-Del, John continues to be a great and loyal fan to not just the Eagles, but all student athletes in our local schools. It's tough to find a guy with a bigger heart than John's for the youth of our community nor a bigger advocate for the rich heritage of Ripley County Basketball.
John was a 1955 Osgood High School graduate, a Ball State University graduate and served a three-year stint for the United States Navy from 1956 – 1958. John and his wife, Janet, of nearly 60 years before her passing in 2017, are the parents of two sons, Jack and Steve. John makes his home in Dillsboro.