The All-ORVC team is loaded with talent.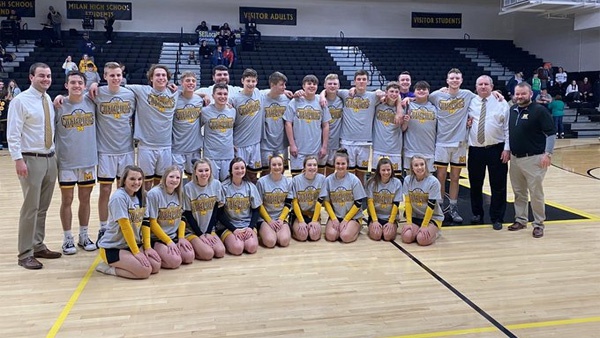 Milan captured their first ORVC championship since 2012. Photo by Milan Athletics.
(Milan, Ind.) – Four Milan Indians highlight the 2019-20 All-ORVC Team.
The Ohio River Valley Conference announced Wednesday its All-Conference Team, Mental Attitude Award winner and Coach of the Year.
Conference champion Milan (6-0 in ORVC) were led by all-conference selections Carsyn Ascherman, Adam Norman, Carter Wade and Peyton Wert.
The conference championship was the first for Milan since 2012.
Other notable players making all-conference were Switzerland County's Damian Breeck, Rising Sun's T.J. Manifold and the South Ripley duo of Cody Samples and Bryce Franklin.
The 2019-20 ORVC Mental Attitude Award went to Milan's Matt Riehle.
Milan head coach Randy Combs was named the ORVC Coach of the Year.
The full 2019-20 All-ORVC Team is listed below.
Carsyn Ascherman – Milan
Brandon Baber – JCD
Damian Breeck – Switzerland County
Wyatt Day – JCD
Bryce Franklin – South Ripley
Austin Kramer – Southwestern
T.J. Manifold – Rising Sun
Foster Mefford – Southwestern
Adam Norman – Milan
Cody Samples – South Ripley
Ethan Stuart – Shawe Memorial
Carter Wade – Milan
Peyton Wert - Milan