Switzerland County were crowned ORVC champs for the first time in school history.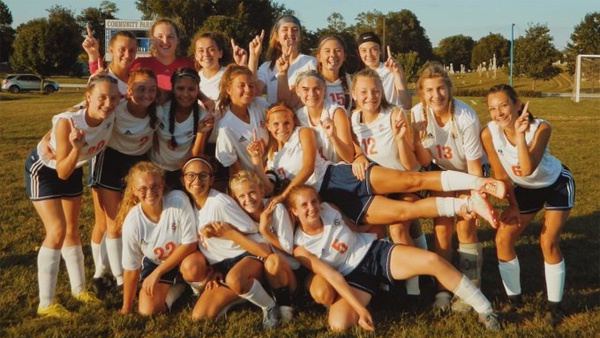 The Switzerland County Lady Pacers were crowned ORVC champions for the first time in school history. Photo by Switz. Co. Schools.
(Vevay, Ind.) – The Ohio River Valley Conference has named its top girls soccer players for the 2019 season.
Switzerland County Lady Pacers finished the season as the conference champs. It is their first ORVC title in school history.
Five Lady Pacers were selected to the all-conference team. They are Matty Anderson, Allie Bruce, Kayley Jones, Raylinn Kappes and Deanna Voris
SC Girl's Soccer Team Wins First ORVC Title in School History!
From Coach Tully Anderson:

The girls have been dedicated all summer. This titles foundation began 3 years ago when we adopted a new style of play and commitment from our players , parents and coaches. pic.twitter.com/Ty5m29QbXj

— Switz Co Schools (@switzsc) September 26, 2019
Making the all-conference team for Milan is Riley Clark, Lily Phelps, Audrey Schmidt, Maggie Schmidt. Rising Sun's Kieran Groover, Sydney Pitts, and Kinsey Price also earned all-conference honors.
The 2019 ORVC Mental Attitude Award went to South Ripley's Taylor Brison.
Switzerland County's Tully Anderson was named the 2019 ORVC Coach of the Year.
The full 2019 ORVC Girls Soccer All-Conference Team is listed below.
MATTY ANDERSON, SWITZERLAND COUNTY
SUSANNE BAJRAKTARI, SOUTHWESTERN
TAYLOR BRISON, SOUTH RIPLEY
ISABEL BROOKS, SOUTHWESTERN
ALLIE BRUCE, SWITZERLAND COUNTY
OLIVIA BRUCE, SOUTHWESTERN
RILEY CLARK, MILAN
KIERAN GROOVER, RISING SUN
KAYLEY JONES, SWITZERLAND COUNTY
RAYLINN KAPPES, SWITZERLAND COUNTY
LILY PHELPS, MILAN
SYDNEY PITTS, RISING SUN
KINSEY PRICE, RISING SUN
AUDREY SCHMIDT, MILAN
MAGGIE SCHMIDT, MILAN
RENEE TUNNY, SOUTH RIPLEY
DEANNA VORIS, SWITZERLAND COUNTY