Let's just say Joel had a nice week behind the three-point line.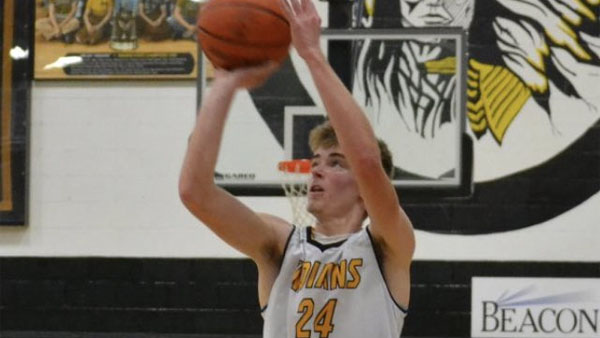 Joel Norman. Photo via @MilanIndiansBB.
(Milan, Ind.) - Joel Norman's shooting ability has netted the Milan basketball star weekly honors from the Ohio River Valley Conference.
The ORVC report for the week of January 28-February 2 was released on Tuesday.
Joel Norman was named the ORVC Boys Basketball Player of the Week. The Indians' star knocked down five three-pointers on his way to a 21 point performance against Rising Sun.
To date, Milan and Southwestern remain the only unbeaten teams in conference play. The two team will meet in what could be an ORVC regular season championship game on February 15.
Other top performers from the week of January 28-February 2 are listed below.
BOYS BASKETBALL
Nick Koons (RS) 26 pts in 2 games
Damian Breeck (SC) 15 pts, 11 rebs, 6 ast, 3 stl vs. Scottsburg
Jake Bovard (RS) 25 pts, 6 rebs, 2 ast in 2 games
Zach Weaver (SC) 10 pts, 8 rebs, 3 stl vs. Scottsburg
Wesley Rider (RS) 22 pts, 6 rebs, 2 ast in 2 games
Tyler Konkle (SC) 13 pts, 3 rebs vs. Scottsburg
Cody Samples (SR) 19 pts, 6 rebs, 3 ast, 3 stl, 2 blk vs. SW
Tyler Kramer (SW) 24 pts, 7 rebs, 2 stl, 2 3's vs. S. Ripley
Bryce Franklin (SR) 13 pts, 6 rebs, 3 stl vs. Southwestern
Austin Kramer (SW) 16 pts, 8 rebs, 4 ast, 3 stl vs. S. Ripley
Matthew Williams (SW) 10 pts, 12 rebs, ast, stl vs. S. Ripley