Potts is a regional qualifier in the IHSAA Boys Track and Field 1600 Meter Run.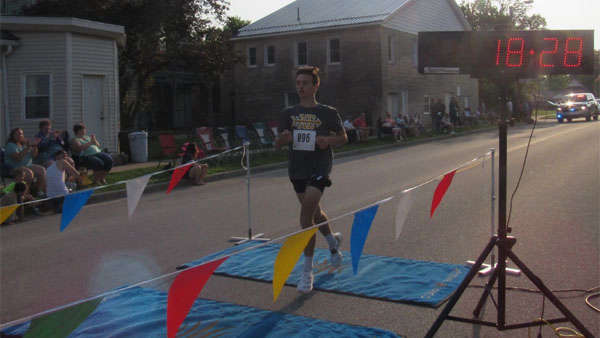 Ayden Potts crosses the finish line first at the Dillsboro Homecoming Festival 5K. Photo provided.
(Dillsboro, Ind.) – Over 200 runners and walkers participated in the Dillsboro Homecoming Festival 5K.
This year's winner was Ayden Potts, 16, of Dillsboro, with an official time of 18:29. Nakia Scruggs, 16, and Gabe Perry, 15, rounded out the top three.
Kim Johnston, 50, of College Corner, Ohio, was the winner in the women's category, finishing fifth overall with a time of 21:21.
Three elementary running clubs from Dillsboro, Manchester and Aurora were among the 207 registered runners and walkers.
Other notable participants include Bill Whipp, of Lawrenceburg, and Wayne Doehlman, of Cincinnati.
For Whipp, it was his 1,500th race on Saturday.
Doehlman recently competed in the Senior Games in Florida, where he won the bronze medal in 5K and the gold in 10K in the 75-79 age group.