Beacon Orthopaedics & Sports Medicine's trainers help care for athletes at East Central, Lawrenceburg and South Dearborn high schools.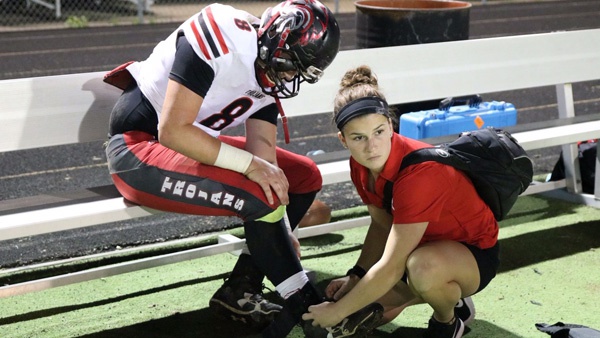 Sammie Cliffe is Beacon Orthopaedics & Sports Medicine's athletic trainer at East Central High School. Photo provided.
(Undated) - All of the schools in Dearborn County along with many Ohio schools partner with Beacon Orthopaedics & Sports Medicine to have thoroughly trained and certified athletic training staff onsite to serve their student athletes. Fast and accurate diagnosis – in addition to onsite help with training, care and rehab – supports student athletes' health and performance. Do you know your high school's athletic trainer? Here is a quick look at each of the local school's thoroughly trained professional Beacon staff entrusted to care for these young athletes.
East Central High School
Samantha ("Sammy") Cliffe, ATC (Athletic Trainer Certified), is beginning her third year at East Central High School, after graduating from Northern Kentucky University. She attributes her career inspiration to be her "awesome" HS athletic trainer who "helped me with injuries I suffered while playing sports."
Cliffe happily talks about how getting to know the whole person – as an athlete and a person – makes her career rewarding. She works closely with parents, coaches and the school's athletics staff, in addition to the athletes themselves. And that combination allows her to rightfully feel like an important part of the EC community.
While she enjoys working with all the athletes, she admits that football is her favorite sport. "There is nothing like Friday night lights and East Central football. I love being trusted to take care of the Trojans. I truly have the best job in the world."
Lawrenceburg High School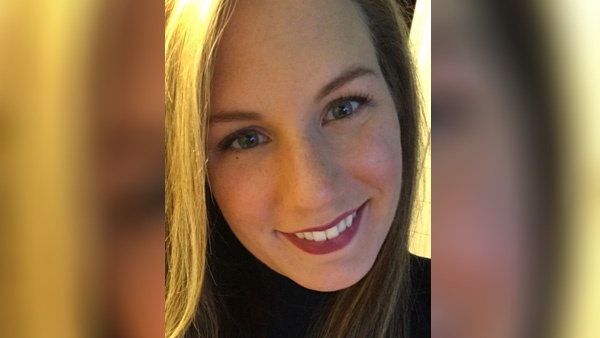 Brandie Goad. Photo provided.
Brandi Goad, ATC, is originally from Milford, OH and graduated from Mount St. Joseph University in 2012. The upcoming school year will be her fifth as the athletic trainer partner provided by Beacon Orthopaedics & Sports Medicine at Lawrenceburg High School. When not working sporting events for LHS, she can be found rock climbing, hiking or kayaking with her husband of four years, Scott.
She was motivated to study health science and pursue a career in athletic training due to her personal experience having her ACL surgically reconstructed in high school, following a soccer injury. "I came back stronger and faster," said Goad. "And I give a lot of credit for that improvement to my athletic trainer's patience and skill set."
She loves to watch baseball but acknowledges that "nothing quite matches the excitement of … sidelines at Friday night football." When asked to choose, she wisely said that she loves all of her "children" equally. She also noted that she loves the wider Lawrenceburg community and feels very lucky to be a part of it. She said the best aspect of her job is that on most days, she enjoys her work so much that she "doesn't feel like she is working at all."
South Dearborn High School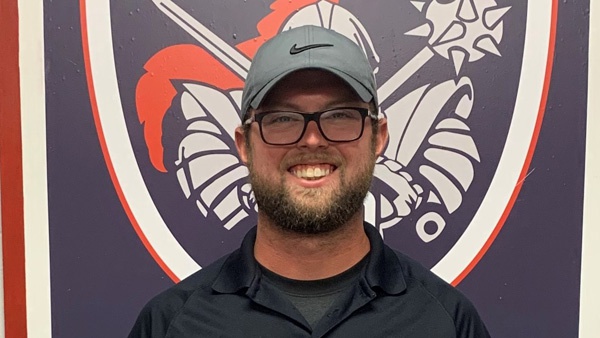 Kyler Hendricks. Photo provided.
Kyler Hendricks, ATC, has begun his first year as athletic trainer at South Dearborn High School, following time at Goshen High School while working for Dreyer Physical Therapy, an organization now partnering with Beacon Orthopaedics & Sports Medicine. He is a proud alumnus of Northern Kentucky University, graduating in 2017.
Hendricks played baseball and golf at Connor High School (in Hebron, KY) and still loves both sports today. He personally was never badly injured, but his best friend suffered a severe football injury to his hand. Watching that friend endure surgery, pins and having to work with the trainer to regain grip strength was a motivation for Hendricks to pursue athletic training as a career. He understands the frustrations that go with being injured. "Now, I enjoy being the one to guide athletes," he said. He strives to be a resource of information, support and training they need to come back better than before.
Certified athletic trainers like Brandie, Sammy and Kyler are the frontline of care, building relationships and treating young athletes, day in and day out and being onsite for all sports. In addition, Beacon provides its partner schools a physician on the sideline at all home football games and other events throughout the year. This shows the extra layer of care, guidance and protection Beacon partner schools receive and have come to expect.
Dr. David Argo, Beacon orthopaedic surgeon says, "These trainers are an extension of care from our office straight to the fields and courts on which student athletes compete." He is proud of them and feels strongly that his teammates serving "Eagle Country" provide the very best orthopaedic care to not only the athletes, but to their families and the entire community, as well.
Appointments are available at Beacon West, Lawrenceburg and Batesville, along with Saturday morning injury clinics and urgent care at Erlanger and Summit Woods. Go to www.beaconortho.com or call 513-354-3700 for an appointment today!