The award is college wrestling's equivalent of the Heisman Trophy.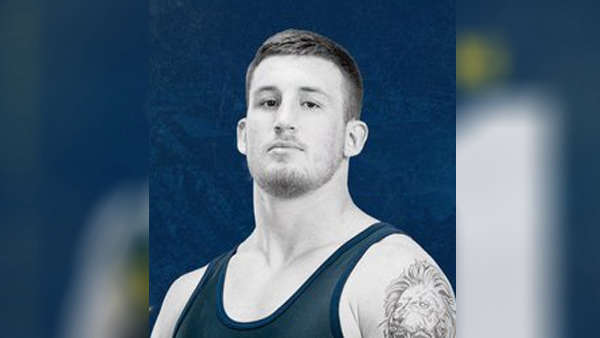 Photo by U of M Athletics.
(Lawrenceburg, Ind.) - Mason Parris has added another piece of hardware to his already crowded trophy case.
The University of Michigan fifth-year senior learned Monday that he is the recipient of the Hodge Trophy. The award, which is college wrestling's equivalent of the Heisman Trophy, is named after Oklahoma's three-time NCAA champion Dan Hodge.
The winner of the Hodge Trophy is determined by the Hodge Trophy Voting Committee, which is made up of past Hodge winners, a retired coach from each region and national media members. Criteria includes overall record, bonus-point percentage, quality of competition and sportsmanship.
A fan vote also accounts for five additional first place votes.
Parris won the fan vote by a landslide. He received more than 11,000 of the 36,225 votes cast online. The second-place vote-getter had nearly 5,000 less votes than Parris.
On the mat, Parris had a dominate season. He went 33-0 and captured the NCAA heavyweight title for the first time in his college career. Of his 33 win, 17 came against nationally ranked opponents. He earned 21 bonus wins with 11 falls, three technical falls and seven major decisions.
Parris received 38 total first-place votes to beat out Penn State's Carter Starocci for the award.
Hodge Trophy Top 5
Mason Parris, 38
Carter Starocci, 14
Yianni Diakomihalis, 6
Andrew Alirez, 4
Austin O'Conner, 2
For more information, visit https://www.win-magazine.com/2023/03/27/michigans-mason-parris-wins-2023-win-magazine-culture-house-dan-hodge-trophy-presented-by-asics/.
RELATED STORIES